EXCLUSIVE
By Mike Slane
United States defender Matt Besler says it is an honour to be named in the 2014 Goal 50 and admits his impressive season may have opened the door to a move to Europe.
The Sporting Kansas City stopper, whose interview with Goal can be watched in the video above,
was listed at No.46 in this year's award
– the best result from an American player since Landon Donovan grabbed the No.39 spot in 2009.
The 27-year-old helped Sporting KC to the MLS Cup last season before starring in all of his country's four matches at the World Cup as they reached the last 16 in Brazil.
That form landed him a place in the Goal 50 and Besler acknowledges that a future move to Europe can no longer be considered impossible.
"I am surprised. It is an honour to be named to this list and I feel lucky," he told Goal when asked about being named for the award.
"I just signed a long-term extension with Sporting Kansas City, so as of now I'm tied until 2018, for the next World Cup cycle. Right now I am very happy, but never say never because you do not know what is going to happen a year or two down the road.
"I did have a couple of options to go overseas, but it is important to understand that I was still under contract with Sporting Kansas City at the time and it was their decision as well.
"They made it clear from the beginning that they didn't want to sell me and that they were more focused on signing me to a long-term contract. They committed themselves to me and I am very grateful for that."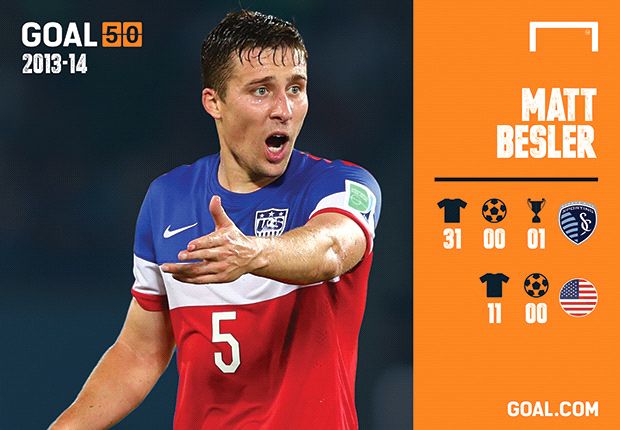 One alternative to a permanent move away from MLS could be a loan move, an option which Donovan and a number of other stars from the United States' top professional league have utilised in previous years during the winter gap between seasons.
Besler was also open to that possibility but said he would always seek advice from national team boss Jurgen Klinsmann, who has made him a key part of the USA's plans.
He continued: "It is tricky with the loan move. I would say I am open to it, but it would have to be the right situation.
"If Jurgen is looking for guys to go play in the off-season on loan deals, then that is something I'm going to have to look in to. If he wants guys to take their four or five weeks off and join up for January, then that's what I'll look to try to do. It's hard to say right now what the future holds."
Besler only made his international debut in January 2013 and enjoyed his rise to the top level at a relatively late stage of his career.
Having locked horns with world stars like Goal 50 winner Cristiano Ronaldo this summer, the 21-times capped defender says it is a reward for constant hard work and tipped more American players to do the same.
"It doesn't matter who you are, what your name is, how old you are or how long you've been with the team, you have to prove it every day in training," said Besler.
"You look at a guy like myself and I wasn't in the picture at all four years ago and I made my way in a year or two ago. That is bound to happen again with some players and everyone just has to keep going and keep pushing and continue to get better.
"All of our players absolutely believe that we can play with anyone in the world. Over the past two years we have proved that with the results that our team has got in friendlies and qualifying and at the World Cup. We should gain a lot of confidence from all of those results.
"For me personally, I have always had the belief that I could go up against some of the better players in the world and compete. I think, for the most part, I proved that in the World Cup."
Click HERE to see the full list for the 2014 Goal 50
HAVE YOUR SAY
Do you agree with our list of the world's 50 greatest players of the 2013-14 season?
Get involved via our Goal 50 section this month
. Give us all your views on the debate by commenting below and by getting in touch on
Facebook
or
Twitter
using the hashtag #Goal50.