Goalkeeper Khune has recently been appointed as the Bafana Bafana captain, and was rumoured to join an English club after the 2010 FIFA World Cup. The real surprise is that he remained in South Africa, currently at league leaders Kaizer Chiefs.
This year he has been in superb form in the PSL and the 2013 Afcon, and this must be the best season of his career so far.
It is speculated that Kaizer Chiefs has set a price of R25 million to clubs that want the player. His agent Jazzman Mahlagkane told Isolezwe, that they have not been negotiating with any club at the moment.
"I think these are just rumours going around. We have not been contacted by any club, but yes, shall there be offers, then we will negotiate for the player," said Mahlakgane.
The agent said that at the moment he doesn't want to disturb the player as his focus is on winning the league.
"I think I will not be doing justice to him if I start talking about contract stuff with him as he is mainly focusing on winning the league for Chiefs. At the end of the day, it will be his call to make and choose which club he would like to play for," he said.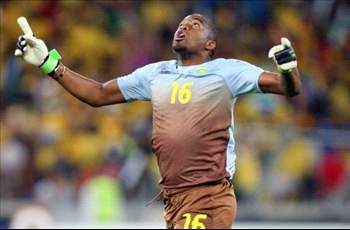 The link to Arsenal is most likely just a rumour based on just the English clubs search for a keeper, not necessarily meaning they are specifically after Khune.
Khune made a number of magnificent one-on-one stops during the Afcon, and single handedly helped Bafana move ahead of Morocco into the quarter finals. However even in the 2-0 victory against Angola, the Bafana backline looked suspect with crosses. One wonders whether to fault the defenders or the keeper since Khune commands his line well.

In the 2-2 draw against Morocco, the home side were bombarded with crosses and Khune failed to deal with the threat. For the first goal he missed the cross, and one best remembers that error because it was punished with a goal.

Though, there were a few other instances, so while Khune is a great keeper with excellent ball distribution skills, there should be a question mark whether he is suitable to the English game. The Premiership relies on many balls into the box and set pieces, so Khune wouldn't want his weaker area exposed. If he wants to move to a top league then the likes of Spain do not deliver as many crosses and his shot-stopping strength could be better appreciated.