Former Banyana captain Amanda Dlamini launched her community up-liftment project on Saturday, in her hometown, Harding in her efforts to equip aspirant young girls with coaching

Body: The 24-year-old who recently resigned as the national team captain after expressing a desire to focus on her education to the young participants at the clinics, as she spent the entire day mentoring them on the basics of football and life skills.
The program promises to grow into other parts of the KZN province, starting with a Life Skills session that was conducted by Love Life followed by Amanda Dlamini who allowed her admirers an intimate session into her rise from humble beginnings to the national team.
"One of my dreams is to see many of you being successful in future. This dream mainly depends on how you conduct yourselves from now. I want you to know that nothing is impossible in life if you are going to put friends aside and put your education and talent first," she said.
The kids were given an opportunity to interact with the Banyana stars during the coaching clinics and the life skills sessions.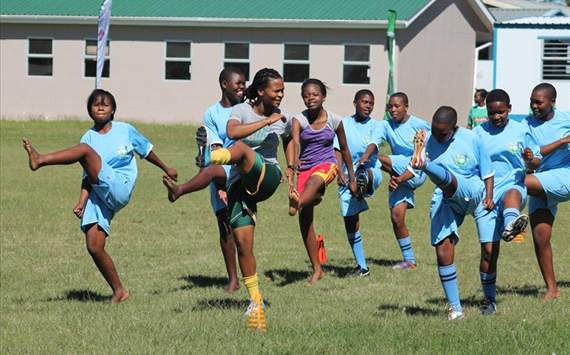 One of the girls that were part of this program, Thandeka Nkeshane said she was inspired to be given the opportunity to meet and be coached by Amanda.
"I never thought that I would get this opportunity to be coached by the Banyana ladies. I am hoping that with the information that I received today, I will become a better player and also end up in the national team like Amanda one day," she said.
Some of the things that were covered during the coaching clinics included the dribbling skills, ball work and communication skills.
Amanda said this event will be piloted throughout the entire province and she hopes that more partners and sponsors will come on board.
"I would like to extend my deepest gratitude to the P&G group for sponsoring with Always pads, Aquelle, Jockey, Nike, AmaZulu community trust with Adidas soccer boots and Love Life. I will also love to invite other companies and organizations to come on board as we are aiming at inspiring young girls," she said.
Another girl's soccer developer Amanda Sister encouraged the girls to stay in school and make sure that they continue staying humble at all times.
"Playing football is not enough, but you need to make sure that you back your passion with education. There are lot of challenges that one faces in the national team, but what helps me is that I have strong values," said Sister.