Comment
By Daniel Eslick
Twenty-two and still an evolving talent, Kermit Erasmus was touted for greatness when he emerged four years ago. One season at current club SuperSport United and the striker jetted off to Eredivisie stalwarts Feyenoord, with his pace and mesmerising control of the football aiding his growing star.
Merely two seasons in the Netherlands followed, as Erasmus returned to South African football after failing to make the grade at Feyenoord. He only made a few starts during his time in Rotterdam, and was loaned out to second division club Excelsior in order to help develop his skills. Playing 30 times for his loan club was not enough to convince Feyenoord of his future potential and Erasmus found himself back at former club SuperSport United at the beginning of the 2010/2011 season.
It could be considered as a fall from potential stardom and a failure to prove himself in Europe, but does Erasmus truly possess the skills to harm top-flight football teams? Even after returning to South Africa, the striker struggled to earn a starting berth in Gavin Hunt's side, with his undoubted quality often not leading to quantity in terms of goals and consistent performances.
The numbers tell the tale. Since returning to the PSL, Erasmus has played 57 times in the league, scoring 14 goals. He has been used as an impact player on occasion, with his blistering pace able to unlock tired defences, but often Erasmus has been guilty of profligacy when goals matter most for his side.
Utilised down the flanks, the electrifying attacking ability is there for all to see, but like many raw talents there is a lack of shine.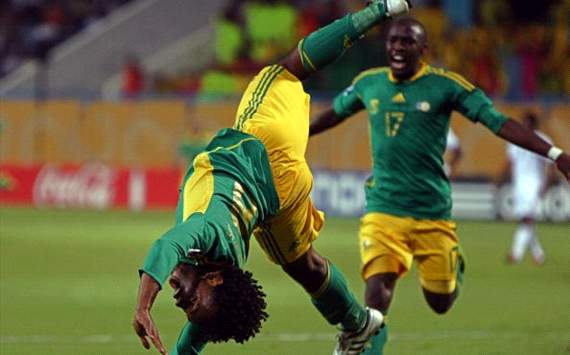 However, his rather unimpressive strike-rate is no worse than many other strikers plying their trade in the PSL. Compared to the players he would join at either Pirates or Chiefs, Erasmus would fit in. Bernard Parker, Chiefs top-scorer last season, has netted 15 goals in 56 performances for AmaKhosi. Pirates' ace marksman last season, Collins Mbesuma, only scored six times in 24 PSL appearances.
But this would not justify his move to one of the Soweto Giants. Pirates, a team which struggled to overcome a long spate of goalless action last season, would add yet another player suffering from the plague of wastefulness which tormented the Buccaneers. Roger de Sa has already supplemented his squad with proven goal scorer Lennox Bacela, an indication that perhaps Erasmus would not be required in the Buccaneer's set-up.
Chiefs, a side brimming with attacking power and few weaknesses, may also not need a player like Erasmus and could look for a striker who delivers unfailingly. Their acquisition of Knowledge Musona, who scored 20 times in 49 appearances for AmaKhosi during his previous stint at the club, means Erasmus may have fallen down the pecking order at Naturena.
Yet with youth on his side and a chance to grow, the striker has become hot property during the transfer window. Pirates, desperate for a creative element in their attacking line-up, will likely believe that they can profit from the pace Erasmus offers. His style of play would also suit Chiefs tried and tested counter-attacking tactics, which saw them open up defences at will last season. Mamelodi Sundowns' massive budget looms over the transfer window and the club is also linked to swoop in and sign Erasmus, with the Brazilians stockpiling talent once more.
There is potential in Erasmus and perhaps a move to one of South Africa's most famous clubs would fast-track his growth and improve his consistency. He has the ability to create the spectacular and has done so for SuperSport United before. But he has yet to prove himself as a player you can count on for goals or for a performance when it is most needed. Once he has unlocked this aspect of his game, he could become one of the PSL's finest talents.