I wanted to wait a few days before reflecting on
South Africa
's failure to qualify for the Fifa 2014 World Cup. I didn't want my thoughts to be swept away in the midst of the bitter, irrational anger after Ethiopia's 2-1 victory against the Central Africa Republic condemned Bafana Bafana to finish second in their qualifying group.
The forgettable week of international football has comfortably passed by. My mind drifts back to South Africa's Brazilian dream. I still can't believe that we are not going to be there. This is particularly disappointing since I can still feel the World Cup bug like butterflies in my tummy, drawing me to South America. After covering both the World Cups in Germany 2006 and South Africa 2010, the pull toward the 'Holy Grail' World Cup is very much like a pilgrimage, with the stadiums shrines of Ronaldo-Messi worship, while the chanting fans encircle the host country in a frenzy. You never forget the people swarming all over the cities like bees, the buzzing sound of the vuvuzelas, the joyful celebrations win or lose and the friendship amongst all Africans and foreign nations converging toward the World Cup - all in the name of a round football.
We must remember that we never realistically expected to reach 2014, after former coach Pitso Mosimane's short-lived campaign resulted in Bafana drawing their first two qualifiers. Yes, we should have won those early games. Many fans acknowledge that this is the reason we failed our goal. That Igesund had a mountain to climb and the nine points he gained from his four games was actually World Cup form.
This is why I was frustrated to hear a legendary South African soccer star play the messenger of ill tidings. It was deep in injury time, and the faithful were still praying that the Central Africa Republic could draw an equaliser to carry Bafana through to the playoffs. Igesund was grateful with his 4-1 victory against Botswana, holding on with the cameraman, 'Well, you never know (if CAR could score an equaliser while we cut for a commercial break).'
One of my favourite South African players from my childhood, whom I won't name out of respect, cried out 'When will South Africa host another tournament? That seems like the only way we will qualify.' The presenters reminded him that CAR could still save the day for South Africa, but the former striker drew the nail in the coffin, confirming that the little buzzing sound in his ear was a referees report that Ethiopia had indeed beaten CAR. Now Bafana were officially eliminated.
Many professional critics and former players couldn't see the improvement of Igesund's Bafana Bafana. The commentators remark that South Africa couldn't qualify without hosting was an insult thrown at the national team from 2009 when Bafana were caught in a downward spiral and never deserved to even make it to the Africa Cup of Nations. To use that same insult to the current Bafana team was disrespectful of the class of 2013 efforts in playing their hearts out, with a never-say-die attitude in dismantling Botswana 4-1. Indeed, I think we should have been proud of our boys.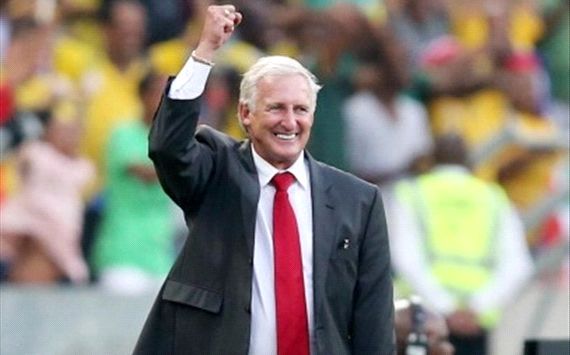 Has Igesund improved South Africa? There's no question about it. We're talking about a Bafana team, which prior to Igesund's arrival could hardly even buy a goal, let alone score it. Now, South Africa are not only scoring for fun, but are also beating tricky teams away from home in qualifiers. Our coach has the recipe to reach big tournaments and we need to cherish it, to grow, develop and support of our national heroes. Yes, we are still a work in progress, but in time I believe we will reach our goals.
Even with poor development structures and a lack of foreign stars in the first team, Igesund has taken an average squad and matched the type of form last shown by former Bafana coach Carlos Queiroz to qualify for a World Cup. Igesund doesn't have his Lucas Radabe's or Benni McCarthy's, but he is instilling a winning attitude and a successful mindset no matter which senior player wears the shirt.
I use the word 'senior' player, because it seems that the coach can't win - even when he does win. There was a call for Gordon to try out Under-23 players when he's winning with seniors. Then when he experimented with an inexperienced team against Zimbabwe, we inevitably paid the price. Indeed, the right way forward is to blood about two youngsters at a time. Going forward it's vital that Bafana field a strong line-up and win friendlies in order to strengthen our Fifa Ranking for a decent qualifying draw.
Should we bring in a top foreign coach? No. As a South African, Igesund understands and knows how to bring out the best in our players (even tactically) better than any foreigner might. With an unmatchable, best ever PSL title record, I was very interested to see how Igesund can test his abilities at international level. I'm positively surprised to see that he's been able to prove himself step by step. Let's not talk of ridiculous, unrealistic mandates. I believe that we should stick with Igesund even if we don't qualify for Russia 2018. Ultimately, the question is whether we are in the top five in Africa? The answer is no. We can get there gradually if the players and the youth ranks coaching department are all heading in the right direction.
The best coaches will punch above their weight, but Bafana couldn't do this with one hand tied behind their back. Let's give the man a decent shot at the title with a clean slate from Match Day One. If Igesund won't achieve it. Then, believe me, no one will.

Follow Goal South Africa editor Ignat Manjoo on twitter here