After Bafana Bafana's disappointing 2-0 defeat against Nigeria in the Mandela Challenge in Durban on Wednesday night, it is time for a reality check about South Africa's credentials.
There's already complaints about Igesund's 'good to lose' statement, but it was made in context of the fact that Bafana need these games against Burkina Faso and Nigeria to prepare for the all-important World Cup qualifier against Botswana.
"It is good to lose at times, and honestly speaking I am not worried about losing to Nigeria. I believe that we gave it our best," said Igesund.
Indeed, the hypothetical danger of beating the African champions is that Bafana could get too confident. There is no use in fooling ourselves that we are better than Nigeria. The fact is we are far behind their level, and it can take years to develop our players to their standards. So, it is better to accept our shortfalls. In defeat, we can learn from our mistakes and work harder to improve for Botswana.
It's not about encouraging a losing mentality, as Igesund's critics would point out. No, the ability to pick yourself up from defeat can even reach heroic levels, and is not the philosophy of a loser. Even superhero status, as a popular film worldwide and in South Africa, Batman Begins quotes, 'Why do we fall, Bruce?' The answer: 'So we can learn to pick ourselves up.'
So if a superhero can 'sometimes lose' as even the Super Eagles can fall on their day if they think they can fly too high. Actually, all real life symbols for hope, like Bafana or the Black Stars, can all learn from defeat. After all they are human.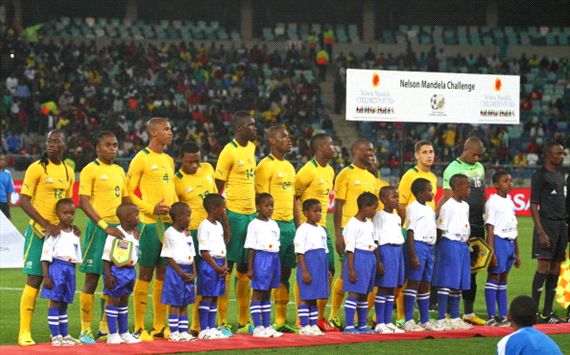 South Africa players line up for the 2013 Nelson Mandela Challenge
Igesund weighs our players experience against the Super Eagles.
"I think my boys played really well. We matched the standard of Nigeria on every form. Considering the fact that they have experienced players who play in respected leagues, I think we did well," he said.
I don't think we can match Nigeria yet, and that's not the coach's fault. It's the lesser talent available to him, compared to the Super Eagles.
We already know we are lightyears behind in developing players. We simply don't have world class players since the retirement of Lucas Radebe, Benni McCarthy and (from internationals) Steven Pienaar. You can't compare Ghana, Ivory Coast and Nigeria's abundance of higher level European experience to our best players hailing from lesser leagues in Sweden, Belgium and even the lower divisions of England.
I think our better players need to get out of their comfort zones in the PSL or relaxed European countries, and become more ambitious. Yes, it's a remarkable achievement when you move out of poverty and become a soccer player with a good contract at Chiefs, Pirates or SuperSport, but we need to reach, to fly higher than that. We need to compare ourselves with the best talent in Africa on an individual basis too.
Yes, there are times, when you can work harder as a team and cause upsets, but we will never achieve anything on the world stage unless we push harder to break boundaries. It's not impossible. McCarthy proved that by winning the Uefa Champions League at Porto and there are scores of stories of top players hailing from poor backgrounds. It's time more young South African players reached for this dream.

Follow Ignat Manjoo on