The Kaizer Chiefs and Bafana Bafana shot-stopper dominated South African football headlines in the 2012/2013 season, but is he one of the best goalkeepers on the African continent?
A game-changer, an impeccable talent, an inspirational force – these are a few of the descriptions which
Itumeleng Khune
has received during his career as
Kaizer Chiefs
and
South Africa's
number one. Following his award-ridden 2012/2013 season, Khune is now considered to be on a new level – perhaps even the best goalkeeper plying his trade in Africa.
With the announcement of
Goal50
imminent, will the man who has been named "King Khune" make the list of Goal's 50 best players on the planet?
Captaining Soweto giants Kaizer Chiefs to their first PSL title in 8 years and a double triumph in the form of the Nedbank Cup, 25-year-old Khune was consistent and at times brilliant in one of the best seasons of his career. His confident persona, his passion for the game and his will to keep the ball out of his net made him almost invincible in goal.
The keeper does not only possess superb shot-stopping skills, with his acrobatic ability complemented by his incisive distribution, which is accurate and difficult to defend against. A piece of distribution from Khune hardly ever misses a beat, always finding the feet of an attacker as if his boots have magnets in them. His perceived weakness in the air and struggles against physical players was not as evident last season, as the young keeper begins to look more solid against crosses and is starting to dominate his area.
ITUMELENG KHUNE'S ATTRIBUTES

THE ACROBAT



Khune has been known to pull off almost unthinkable saves, by utilising his quick hand-eye co-ordination and acrobatic ability.
THE DISTRIBUTOR



Pin-point accuracy combined with excellent vision makes this side of Khune's game his most potent attribute.
THE LEADER



A general at the back, Khune has proved that he can organise defensive efforts and provide enough passion in his game to help inspire his troops.
On the international level, Khune replaced Bongani Khumalo as South African captain after the 2013 Africa Cup of Nations, which is yet another feather in his cap. He continues to be a force for the national side, providing heroics in goal which took South Africa to the quarterfinals of the Afcon tournament hosted in Mzanzi earlier this year.
His performances during the 2009 Confederations Cup earmarked him as a possible future star, culminating in a superb save to keep out David Villa of future world champions Spain. During the 2010 World Cup, Khune's immaturity was exposed as he was sent off for a reckless challenge against Uruguay, an issue which plagued him once more as his time wasting antics against Sierra Leone cost South Africa a berth in the 2012 Africa Cup of Nations.
But Khune is beginning to show signs of improved maturity. In the final weeks of the 2012/2013 season Khune was called "the best goalkeeper on the continent right now" by his club coach Stuart Baxter. With the impact he made for his club side, this statement is not awry.
But how does Khune compare with leading African goalkeepers? Is Khune's talent on par with the likes of Vincent Enyeama of Nigeria, who was voted as Africa's best goalkeeper at the beginning of this year? Comparing the two displays that Khune still has a lot to prove on both club and international level. Enyeama is an Africa Cup of Nations champion, a two-time Caf Champions League winner and has had a lengthy career outside of Africa. Enyeama captained Nigeria to Afcon success and is a respected international star for the Super Eagles.
Boubacar "Copa" Barry is another African goalkeeper who has been consistent for both Ivory Coast and European teams during his career. Carlos Kameni, now a reserve keeper at Malaga, was a regular starter for Espanyol and Cameroon and is certainly another contender. Khune is on the road to supplanting the three, but still needs to achieve more, prove himself on different stages and be a leader for longer in order to be ranked amongst three of the finest keepers Africa has provided.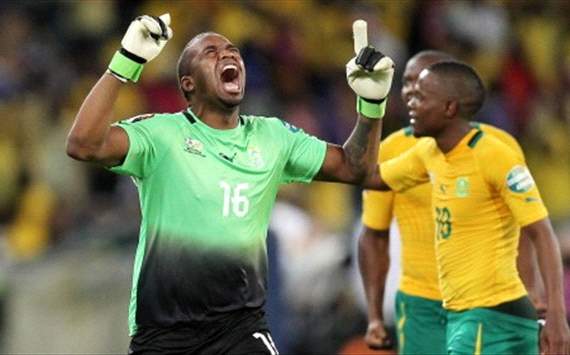 On the continent, Khune's main opposition for the tag of "best goalkeeper" would be players from the clubs who have dominated their local and continental competitions. Esperance keeper Moez Ben Cherifia is a young talent who is breaking through for the Tunisian giants, while the stalwarts like Zambia's influential Kennedy Mweene and the entertainer, DR Congo's Muteba Kidiaba all spring to mind when thinking of the best keepers from Africa.
Khune's youth gives him an opportunity to grow and perhaps move to a league which is perceived to be "tougher" than the local South African PSL, in order to prove that he truly deserves the tag which he has been branded with. However, Kaizer Chiefs are set to play in the CAF Champions League next season, where Khune can demonstrate that he can compete on the continental stage, which may disprove the doubters and confirm that he is the most solid shot-stopper currently playing in Africa.
Undoubtedly still a developing talent; Khune's name is quickly becoming associated with the future of South African football. Perhaps not worthy yet of a tag as grand as the "best goalkeeper in Africa", Khune must now face new challenges and reach greater heights.