Gordon Igesund will need to test his injury-stricken squad's reserve strength in order to prepare Bafana Bafana for tough World Cup qualification ties in North Africa
Bafana Bafana's spirit will need to shine through in their next three matches if they are to cling onto the dream of 2014 Fifa World Cup qualification.
South Africa play Lesotho in a friendly on Sunday afternoon in what many may consider as a walkover for the national side, but the importance of the match is now greater than ever for Gordon Igesund and his injury-ravaged squad.
With the majority of South Africa's defensive reserves having broken down one by one, Igesund has had to make drastic changes to his original squad which was destined to face Central African Republic and Ethiopia in vital 2014 World Cup qualification ties.
The only recognisable faces in Bafana's defensive line-up will be full-back Anele Ngcongca and newly-appointed captain Itumeleng Khune who will need to marshal a largely untested back four in the next three matches. The names missing from the squad have all been permanent fixtures for Igesund since his appointment and the coach will only have one game to try and solve the current crisis.
SuperSport United's Bevan Fransman will most likely start alongside Thabo Nthethe in central defence, while the set-piece specialist Ricardo Nunes will take injured Tsepo Masilela's place down the left flank. It is a defence which lacks international experience and will only have one match in order to test its cohesiveness.
Igesund has stated that the result against Lesotho is not important, even though a win should be his aim since Lesotho have never been able to defeat Bafana Bafana and have only claimed a single draw. The match will be about testing who can step into the boots of the injured players and testing foreign combinations.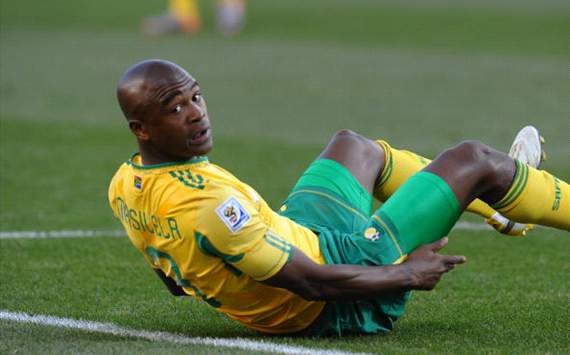 "At the moment I am just trying to get the rhythm, some players haven't played together at all and we are going to work on that during the Lesotho game," Igesund told reporters.

"It is a game we have to win. We don't know too much about them, but the reality is that I am not concerned about them. The next big picture is CAR. Of course we want to win against Lesotho, but we definitely have to make a lot of changes and be sure of combinations at the back."
The Lesotho match is merely the opening act for the main show – two 2014 World Cup qualification matches in North Africa.
South Africa will target six points from the two games. Six points is what is certainly required if they are to entertain hopes of reaching the next round of qualification. Currently in second place on five points from three games, Bafana could surge to top position if they defeat both CAR and Ethiopia.
However, playing on poor pitches, overcoming inhospitable away conditions and trying to recover from the current injury crisis will make the road to World Cup qualification an even tougher assignment.
Bafana defeated CAR 2-0 in their previous encounter and have the distinct advantage of playing the side in Cameroon, due to the security concerns surrounding the nation. Igesund has been under no illusions that this will be an easy match. CAR has nothing to lose in trying to undo Bafana next weekend, and may lick their lips at the prospect of playing a weakened defensive force.
The match against Ethiopia will be the true test of Igesund and his diminished squad. The coach has conceded that they will play on a bumpy pitch, against a confident side which has found new life under Sewnet Bishaw who steered Ethiopia to consecutive Africa Cup of Nations and to an unbeaten start in 2014 World Cup qualification efforts. Bafana Bafana will be under duress in Addis Ababa, a stadium where the Walia Antelopes are difficult to beat.
However, South Africa have been in this kind of difficult position before under the guidance of Igesund. Weeks before the Africa Cup of Nations goals had deserted the national team and the drought seemed to be unceasing.
It's a game we have to win.



- Bafana Bafana coach Gordon Igesund

Igesund was able to turnaround the situation, with the hosts playing to their capabilities and reaching the quarter-finals of the tournament. The side is beginning to fulfil the coach's vision – an attack-minded fast paced style of football which is attractive to the eye and more importantly delivers results.
The defensive side of the game may have suffered from the current injury crisis, but the core group of attacking players is still available to Igesund with Bernard Parker leading the line, supplemented by Tokelo Rantie's poaching ability and May Mahlangu's tireless creative play.
If the coach can muster the same strength in spirit South Africa showed during the Africa Cup of Nations – what seems like mission improbable may be achieved.