Gordon Igesund has been left with a mighty task in trying to help Bafana Bafana recover from a tepid beginning to their 2014 World Cup qualification campaign.
His selection policy of providing in-form players with the opportunity to shine at national level has given Maccabi Haifa's Dino Ndlovu the ideal chance to prove he can notch up goals for Bafana Bafana.
Katlego Mphela's lowly run of form for both Bafana Bafana and Mamelodi Sundowns has meant Ndlovu is once more brought into the fold to find the back of the net.
Ndlovu has been selected before by Igesund, but an unlucky injury against Brazil and poor performances against Poland and Kenya did not earn him a spot in the 2013 Africa Cup of Nations squad.
Since joining Maccabi Haifa at the beginning of the 2012/2013 season, the former Mamelodi Sundowns and Bloemfontein Celtic player has scored four times in fifteen starts.
A strong frontman with a willingness to work hard, Ndlovu has become hot property in the eyes of South Africa's coach.
"It is important to understand that Dino Ndlovu is the highest scoring striker at his club," said the Bafana coach.
"He scored in his last game. I have watched tapes of his recent games and he has been performing well.
"Dino was unlucky to get injured in Brazil and consequently we were not able to see what he is capable of doing. I think he can do very well and score goals for us."
Ndlovu has rich experience in terms of being a part of national football structures, after playing in both the under-20 and under-23 South African sides.
"At the Afcon we had only five players that came from the under-17s, under-20s or under-23s," said Igesund.
"We need under-17, under-20 and under-23 sides that play in the same way (as Bafana), an identity, so if a player comes through he knows exactly what is expected."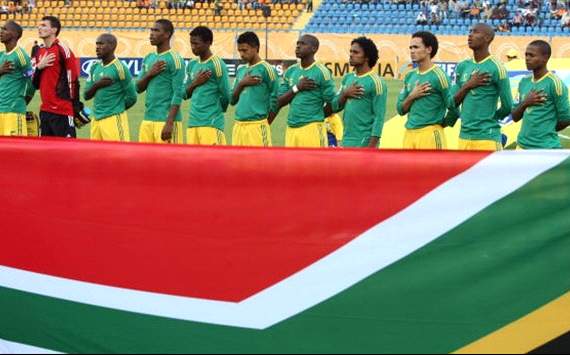 Ndlovu fits into Igesund's vision of the future for South African football. The coach wishes to form a team which comprises players who have risen through the ranks of the youth structures in South Africa.
Igesund wants Bafana Bafana to have an exclusive identity, built up from generation to generation. Ndlovu is merely the beginning of what Igesund wants to achieve.
However, in 2011 Ndlovu was left clubless and facing a bleak footballing future as Sundowns refused to offer him a new contract. But the player defied the odds and fought for a chance to show what he is capable of.
Israeli club Bnei Yehuda came to the striker's rescue and he took his opportunity with both hands, making a splash in his first season playing in Israel after scoring eight times in thirty starts.
Maccabi Haifa snapped up the striker at the beginning of this season and he has not looked back since joining the club.
"In South Africa there was no club for me to play in, but when I came to Israel I had an advantage because of the confidence the coach and the players had in me and that is why I am scoring goals," said Ndlovu.
"I am ready for the challenge, but at the start I was scared to hold the nation on my own shoulders.
"I came out well in Brazil, but unfortunately got injured and couldn't show South Africa what I am all about,"
If Bafana Bafana is to achieve what some have branded as "Mission Impossible" and qualify for their third World Cup, a player like Ndlovu who possesses tenacity and a never-say-die attitude could be their trump card.