Much like the FA Cup in England, the Nedbank Cup has been able to spark some classic underdog victories since its inception in 2008.
The tournament has seen many players rise from anonymity in the lower leagues of South African football and capture the imagination of their fans, by defeating fancied sides and making dreams a reality.
The Nedbank Cup is also a powerful development tool, allowing young players the chance to experience what is required in the top-flight. The ground-breaking structure of the Cup has transformed the state of local football, giving lower league sides increased impetus to succeed.
Mpumalanga Black Aces was the first side to benefit from the unique competition, as they soared to the final in its first edition, only to lose against Mamelodi Sundowns in the final. But the stage was set for the minnows of South African football to prove they could match teams in the top-flight.
The following year, Pretoria University made it to the final against Moroka Swallows, with a First Division side yet again taking their opportunity to make an impact in the most lucrative cup competition in South Africa. AmaTuks defeated Kaizer Chiefs, Bloemfontein Celtic and Ajax Cape Town during a remarkable run to the final.
Black Leopards was the next lower league side to triumph, defeating Kaizer Chiefs on their way to the final against Orlando Pirates in 2011. The Buccaneers sealed one of their three trophies that season with a 3-1 victory in the final.
With the preliminary rounds already completed, the 2013 Nedbank Cup is set to kick-off on Friday night as Ajax Cape Town face Mamelodi Sundowns, a heavyweight clash between two sides desperate to salvage their seasons.
Maluti FET College will be the first side looking to spring a surprise, as they target Orlando Pirates. Roger de Sa has already claimed that he will rest some of his first team players during the Nedbank Cup, which should give the minnows a chance. Coach Morena Ramoreboli believes his team can defy the odds.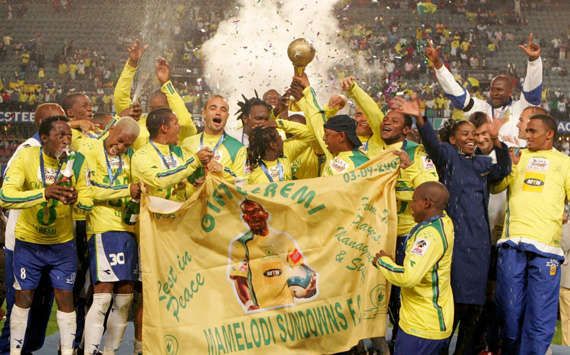 "We have played 11 league matches so far this season and won seven drawn four. Add to that the Nedbank Cup preliminary matches and we have had a good run," Ramoreboli says.
"We have won our last three games, scoring 11 times and conceding none. The players have confidence and we hope to take that into the Pirates game.
"They know that it is the biggest match of their career and that they have the opportunity to do something great."
Witbank Spurs face Free State Stars on Saturday, while another lower league side Milano United is set test their ability against Bloemfontein Celtic in the round of 32.
Former Platinum Stars coach Owen da Gama is confident that his Dynamo's side can defeat Dikwena on Sunday, but the coach believes that the tournament is a fantastic learning curve for his group of young players.
"I don't care about the result on Sunday, even if they win 10-0 it will not break us," Da Gama said.
"Just playing against a quality team like Platinum Stars will help to take my young group of players to the next level.
"We know that our chances of winning are very slim. For five or six of my players this is their first season in the National First Division, let alone playing against a Premier League side.
"I am hoping this game will help us long term as we seek to learn and grow as players. They will learn a lot from the game."
Magesi FC, a side based in Limpopo and which often has to train on gravel, will face Jomo Cosmos and is targeting a dream run in the Cup in order to improve their facilities.
"I have told my players that this is a great opportunity for them, one that does not come along often, and it is a chance for them to show off their potential and make a name for themselves," Magesi CEO Kgomotso Mafa said.
The stage is set and the lower league sides will once more see the Nedbank Cup as an ideal chance to prove that they can compete. The magic of the Nedbank Cup may continue, as South Africa awaits kick-off on Friday night.