South Africa achieved what many thought was impossible during the Africa Cup of Nations. Their dramatic qualification into the quarter-final stage of the tournament and a spirited loss against Mali has meant the side has received praise from many fronts, while the country has called for Bafana Bafana to continue improving.
A team which has been scorned at, dismissed by many in the Rainbow Nation and criticised for a decade, has suddenly found themselves being lauded for their efforts after a fortnight of competitive and intriguing football.
There are reasons why South Africa has overturned their attitude and ability and Goal.com recognises these as five vital factors which should take South Africa to new heights in the future.
GORDON IGESUND'S INFLUENCE

The PSL's most successful coach is not only personally invested in South African football; he is an affable man who is driven to put Bafana Bafana back on the football world map. His desire to turn around his beleaguered side's fortunes was evident during the Africa Cup of Nations, as he motivated the team to play beyond their capabilities and to start believing in themselves once again, something which had been lost following their demure 2010 Fifa World Cup campaign.
The coach may not have won many games while he has been in charge, but his influence on the South African set-up is already noticeable. Results are not everything in a developing team. In a matter of months Igesund transformed the outlook of the side, identified their strengths and their weaknesses and began a building process towards future success. His initial achievement, a first Afcon quarter-final for South Africa since 2002 should serve as the base for the side to fall back on and help them challenge some of Africa's finest teams.
Igesund is set to take the side into the 2014 World Cup in Brazil, but will need to work even harder to garner a spot for Bafana Bafana in a tough African qualification campaign.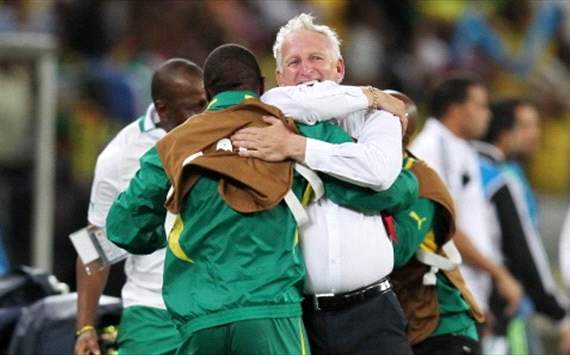 Many fear the lack of development in South African football. The increased investment in grass-roots football should help the sport's authorities identify more talent, but only time will tell.
The future of Bafana Bafana is certainly in the hands of the team's selection of exuberant youngsters, with the likes of Tokelo Rantie, May Mahlangu and Ayanda Patosi already making their mark in Europe. Thulani Serero is another name thrown into the hat of a pool of players set to take over from the older statesman in the Bafana set-up. While many of the players may lack the technical skill of Steven Pienaar, or the commanding defensive strength of Lucas Radebe, they possess their own talents which will only develop as they continue to play in tough European competitions.
Fortunately the side's future seems to be promising, as Gordon Igesund has devised a winning formula, a new style of play which incorporates the strengths of his players and a focus on future potential rather than relying on old war horses from the past.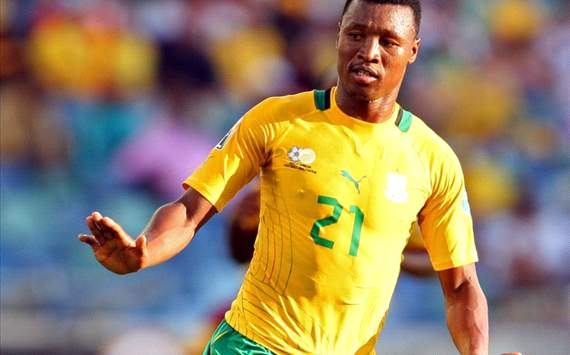 Bafana Bafana's impetus in the final third has been a concern forever it seems. A team renowned for its creative play which has a lot of style but lacks substance has struggled to score goals in all competitions, until Siyabonga Sangweni sprinted forward and drove home a brilliant volley against Angola, which seemed to shake off the dust and spring South Africa into action. Five more goals followed during the Africa Cup of Nations, something unheard of for many South African football fans.
This style of play has been Gordon Igesund's target since he took over as coach of the team. He has promised attacking football, with slick passing, pace and pressure being applied throughout matches. Bafana Bafana tried but failed to utilise this attacking mindset until they faced Angola. Whether it was the do-or-die situation, or Igesund's influence on the team, the starting eleven came all with all guns blazing, exciting fans and creating opportunities for the team to win, rather than sit back and try not lose.
BELIEF IN BAFANA BAFANA IS GROWING

Even though the national side did not progress into the semi-finals of the Afcon, there were no cries of derision from fans, no calls for Gordon Igesund's head or for players to be dropped. Instead South Africans have praised the teams' efforts and want it to move forward in the same vein.
There was a general sense of unity surrounding the country as Bafana Bafana progressed through the Afcon and this growth in support will need to continue in order to help the side qualify for the 2014 World Cup in Brazil. Gordon Igesund has certainly achieved his first goal: Win back the fans.
FOOTBALL IS A NATION BUILDER

South Africans love the beautiful game. The country may not all follow local soccer, but the interest in the European game is vast, spanning across all walks of life. A nation which is known for its obsession with sport has struggled to create a competitive football side due to spates of corruption in its governing body, a lack of investment in the grass-roots game and general lack of support for the national team.
Football can be a nation builder in South Africa. A sport which creates connections across racial barriers, the game can act as a way of unifying the country, even for just 90 minutes. Once the social importance of the sport is realised, the greater its status will become in South Africa which should only benefit Bafana Bafana in the future.