South Africa's chances to win the Africa Cup of Nations may be slim according to many pundits, but celebrated former Coach Clive Barker does not believe the national side will falter during their quest to become champions of Africa.
With the final 23-man squad set to be named on Sunday, thousands of South Africans are entering into discussion surrounding the national team's recent performances and whether or not Bafana Bafana are able to recapture the glory of sixteen years ago.
However, the face of African football has changed since 1996, where only a handful of household names could be found plying their trade in Europe's elite clubs. The competitiveness inherent in African football in 2012 was not as strong during Bafana Bafana's maiden continental victory.
This means the task ahead of the national side is only tougher, even though they are playing at home once more, they will be facing teams which have talent beyond their own.
"Football is now an oyster and almost every top side has an African player in it," Clive Barker told Goal.com South Africa.
"African football has evolved and improved. The great personalities in African football have transformed the game. There are collectively a lot more talented players than in 1996."
Barker recognises the transformation of African football but will not discount South Africa's chances during the tournament. His fervent belief in the team may not be shared by many, but the former coach believes his confidence comes from his trust in Gordon Igesund.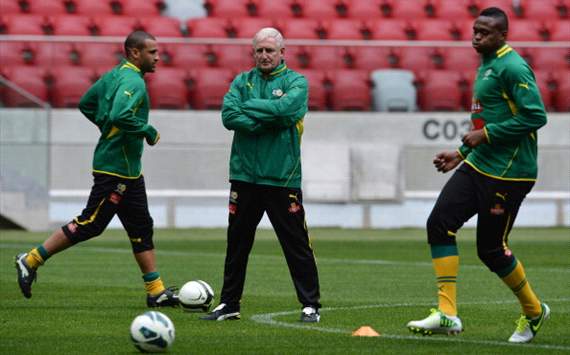 "I believe we have a top-class coach, who was a proven player and has all the qualities as a coach to be successful," Barker says.
"He can build a match-winning team even though we do not have access to the depth of talent we had in 1996."
"Obviously playing in our home environment will be an advantage as we will be playing in front of all of our fans. Our players know the grounds and have been successful at the grounds which is a major advantage.
"I do not want to put Gordon Igesund under pressure, as we do not have the same individuals and personalities we once had, but I believe we will win the tournament."
As the build-up to the tournament intensifies and we enter the New Year, former players and coaches' confidence in the team will be important. However Bafana Bafana results on the pitch will serve as the defining factor.