Played in energy sapping heat, the friendly between South Africa and Malawi saw Bafana Bafana show early moments of intensity, only for their initial control of the game to be squandered by some ragged play. On came the Swedish connection of Tokelo Rantie and May Mahlangu and the duo provided the necessary spark in order to garner a rampant final fifteen minutes in Durban.
Starting with a side wholly comprised of locally based players, South Africa stormed into a 2-0 lead through goals from Kaizer Chiefs' prolific Lehlonolho Majoro and Simphiwe Tshabalala. These two goals were testament to Gordon Igesund's love of attacking, high intensity football, with the team looking ruthless and confident in their abilities.
This was a new style of football for Bafana Bafana, a team which has been defensive and profligate in the final third for so long. This was something we may not be used to seeing, but was an extremely positive sign of progress.
The opening period saw Thabo Matlaba able to transfer his impressive club form into a debut to remember for the national side. Utilising the flanks and the pace of Gaxa and Matlaba, Bafana looked like a potent attacking force.
Lerato Chabangu linked up well with Majoro for the opening strike, while Tshabalala had the pace to make a run into the box and tap in with a raised left boot, after Gaxa and Myeni tore the Malawi defence to shreds down the right flank.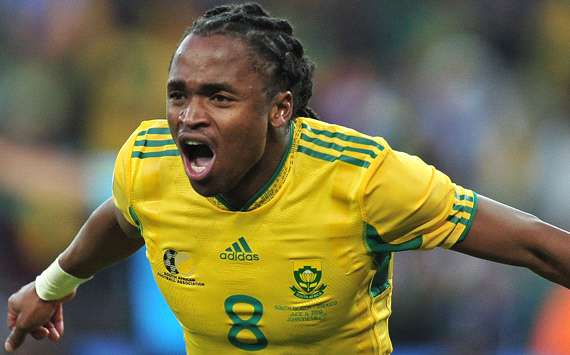 What followed was a large period of the game where the home side struggled to impose themselves on the tie, allowing Malawi time to build periods of possession and ultimately secure a goal via a penalty kick in the second half. This was a disturbing period for Bafana fans as the side looked completely relaxed and had lost their ability to build coherent periods of play.
The Malawians brought attitude and verve to Moses Mabhida which was a good test for the South African side. 2-0 down they did not falter and leak any more goals, but instead started to pile pressure on their opponents and did not hesitate to try their luck from range.
Their penalty kick, a rather dubious decision in truth, was the result of consistent good play and a never-say-die belief which seemed to be running throughout the outfit. Bafana would have learned from their opponents that a football game is never over until the fat lady sings.
Understandably the South African team was tired following a long first half of the PSL season and this allowed Igesund to make two changes which set in motion an explosive period of play which sealed the match for Bafana Bafana. Rantie and Mahlangu, released from their Swedish clubs for the tie were able to polish off the result.
Tokelo Rantie's pace saw him rip open the Malawian defence and he earned the side a vital penalty kick, as he was free on goal only for a Malawian defnder to cut him down inside the box with a late tackle. May Mahlangu stepped up and fired home an unerring effort which displayed his form and impact he had made on the final period of the game.
But what was more impressive was his link-up play with the rest of the side. Tokelo Rantie has spoken highly of Mahlangu in the recent past, saying he is one of the most important and celebrated players in the Swedish league.
Mahlangu turned the tide on Saturday evening with lung-bursting runs, penetrative passes and utter confidence on the ball which certainly makes him a vital cog in the Bafana Bafana machine come the 19th of January.