Bafana Bafana need to model themselves on the Zambian side they face on Wednesday evening, as the Chipolopolo comprises teamwork, determination and skill which are some of the essential ingredients for a successful football team.
Zambia conquered the odds and defeated two of the most powerful African football sides on their now legendary road to victory at the 2012 Africa Cup of Nations in Equatorial Guinea and Gabon.
The Chipolopolo beat a star-studded Ghana 1-0 in the semi-final and the mighty Ivory Coast after penalties in the final, defying some of Africa's greatest players in the process. The team bases their performances on unity and an indefatigable attitude towards the game.
Led by their inspirational captain, the ex-Jomo Cosmos player Christopher Katongo, Zambia do not possess household names but their squads' style of never-say-die football makes them a dangerous force on the African continent. They performed the classical underdog victory at this year's African showpiece, but will no longer be deemed in such a category after their glorious win.
Zambia Form
Chipolopolo's last eight matches


June 9



Zambia 1 - Ghana 0


July 6



Malawi 1 - Zambia 0


Aug 8




Zambia 2 - 1 Zimbabwe

Aug 15




Korea Republic 2 - Zambia 1

Sep 8

Zambia 1 - Uganda 0


Oct 13




Uganda 1 - Zambia 0
The team bases their game upon a vibrant attacking style with a high work rate in defence. Katongo will have fond memories of his hat-trick against Bafana in 2007 and many consider the game as a derby between two countries which have close footballing links.
Zambia is certainly favourites for the clash even though their form since the Africa Cup of Nations has not been consistent.
The Zambian side has experience and talent on their side with players such as goalkeeper Kennedy Mweene, Joseph Musonda, Noah Chivuta and Collins Mbesuma all plying their trade in the South African PSL. The Zambians will be no strangers to the country's cities and stadia.
Their exuberance and liveliness comes from talents like Southampton's Emmanuel Mayuka. Mayuka has made the step-up into English Premier League football and was one of the many highlights of the side's 2012 Afcon campaign. The team has reintroduced Jacob Mulenga into the squad and the Utrecht striker, who has a prolific record in the Eredevisie, will add to the Chipolopolo attacking threat.
Their head coach Herve Renard has been able to combine impressive levels of stamina, a level of flair and energetic, attacking football with an ability to fight against the odds.
He has obtained an impressive record as coach of the side and has earned praise from across the footballing world due to the success he has brought to the Zambian game. Renard has served two stints as Chipolopolo coach from 2008 till 2010 and then from 2011 until now. His team head into the tournament in South Africa as respected opponents.
Bafana Bafana battle the Chipolopolo on Wednesday evening during the Nelson Mandela Challenge and will face a strong outfit that comprises the majority of the squad which tasted glory earlier this year, aside from a few injury concerns.
Katongo, on the list of possibilities for African Footballer of the Year, believes that South Africa is under pressure to perform ahead of the Africa Cup of Nations. Almost every South African player is still looking to prove himself, whereas Zambia is stable in terms of its selection policy.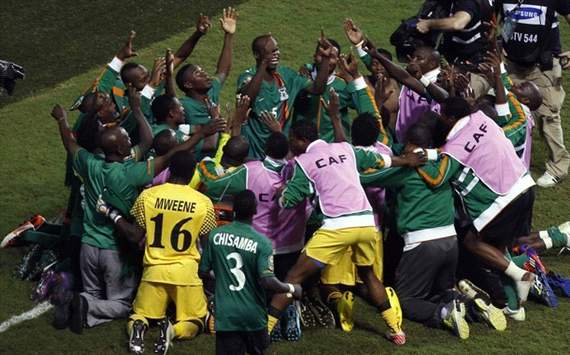 The game has a degree of essential importance for Bafana Bafana as they face a side which they may have to conquer on their journey through the tournament. This is not the only reason Bafana should place emphasis on this clash.
Zambia does not possess European powerhouses, explosive game-changers or superstars. Their side has been developed over time and they all understand each other's roles. Their unity and coherence comes from a stable and strict coaching team which has imposed a level of structure on the team.
The organised and fluent Chipolopolo are the antithesis of a South African side which is still a work in progress. Bafana Bafana possesses talent but is aiming for stability and should look to mirror their attitude towards the game on Zambia's approach.
Bafana Bafana needs to attain unity and the ability to play as a single force rather than a group of individuals. In a short space of time the team has to be moulded into a singular unit which not only plays for each other but for the millions of South African supporters watching them on the pitch.
Zambia have won the hearts of many football fans since their Afcon triumph earlier this year and South Africa have the opportunity to capture the imaginations of not only local but a world audience, if they can go far in the tournament.
Whether they can complete such a task remains to be seen. Zambia has been in a stage of development for the past four years, improving from exiting in Round 1 of the Africa Cup of Nations in 2008 to being champions in 2012. Bafana Bafana has a much shorter time to construct a championship winning side.
The clash on Wednesday should provide the players with a good sense of what is required to be a force in African football.