It's a place where the business in soccer is highlighted and brought into fruition. In an event attended by international football heads and other major stakeholders, this two-day symposium brings the world of business football together.
The 2010 FIFA World Cup was an unprecedented event. It has left its legacy in infrastructure and changed global perceptions, needless to say the economic impact it has had in our economy.
It has brought synergy between KZN and the world and has become a major influence in which soccer can be played.
Development in South African football has been at the centre stage since the release of the World Cup Legacy trust in June. Development in our county has faced many challenges pertaining investment from the private sector. The lack of facility and trained staff has been the backbone of focus.
At Soccerex one of the concerns was also over the development of players careers economically in Africa.
"Football being one of the most lucrative sports in South Africa, struggles with having a large number of players failing to invest in their future," according to Sibhidla-Sephetha MEC for Arts, Culture, Sports and Recreation.
Soccerex sees to bring the private investing in soccer. It's no longer about the player and club, but government, sponsors and supporters. There is the fear that players mismanage funds, mainly on materialistic things.
There is a need to educate our footballers in making a living outside of football. Many footballers, after retiring from the game go into coaching because they don't have other things to fall back on.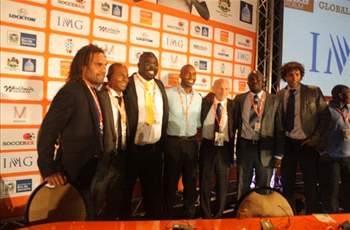 "Many disappear out of the radar. Players should be given social responsibility programs so to make them aware of life after football," said former Bafana Bafana captain Lucas Radebe in Durban.
Another issue is that football has now become a commercial entity. Players no longer want to be playing for passion but for the money.
"Globalization in the game has filtered down to the consumers. Consumers don't want to go and fill up your local stadiums, but rather the likes of Chelsea's Stamford Bridge," says Christian Karembeu, former Real Madrid and France player.
In finding a way to bridge the gap between investors, day one at Soccerex has highlighted the need to educate our current and upcoming players. Development in our continent can only be achieved when we all work together.