Nunes, the Portugese man who is South-African born and based in Slovakia, was a largely unknown factor before being called up to the Bafana Bafana squad
When Gordon Igesund told the media he had been keeping his eye on a player called Ricardo Nunes, there was a frenzy of reports about who the player was, where he came from and what he could bring to the national set-up.
His selection had come as a major surprise for most South African football fans and pundits. Igesund had only seen ten minutes of the player on tape before immediately contacting Nunes. He did not take long convincing the twenty-six-year-old to enter the international fold.
The footballer who has been out of the limelight for most of his career will have a chance to demonstrate his skills to his countrymen when he takes to the pitch during Bafana Bafana's friendlies against Poland and Kenya this weekend.
Igesund has pointed out the MSK Zilina left-back as a potential force to be reckoned with. Looking back at Nunes's road to selection shows that the man has had a tough time trying to break into top-flight football.
Nunes has been a football journeyman, moving from one club to the next looking for opportunities to play in different leagues and develop his ability.
Before being selected for South Africa he had already played for nine different clubs in a variety of leagues displaying how hard he has had to fight for recognition of his talent.
Nunes has Portugese parents and was born in Johannesburg in 1986. He left South Africa at the age of eight and returned to Portugal where he began to develop his football career.
Portugese youth structures and local clubs offer young players excellent opportunities to grow as footballers. Nunes joined Grupo Desportivo Estoril Praia which is based in Lisbon.
The club has been a good breeding ground for successful footballers with Portugese superstar Pauleta heading the list of former players. Nunes developed his skills here and joined the Benfica youth system.
Nunes seemed destined to play in the Portugese Primeira Liga with this promising start. However he was unsuccessful at Benfica, only playing for its reserve side in the 2005-2006 season.
The Lisbon-based side had Nunes playing for Benfica B in the third division, the Segunda Divisão, a largely anonymous league with little room for growth. The young man was not finding it easy to break into the top-flight.
Nunes moved to Greece in 2006, where he first played for lower league side Lamia FC. Initially Nunes could not find a place in first division sides as he continued to struggle to have his skills noticed.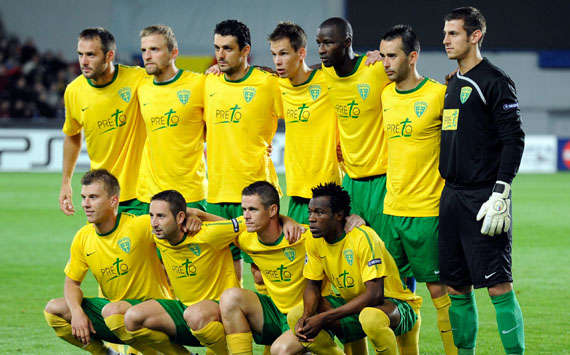 Between 2007 and 2010 Nunes played for various lower league clubs based in Cyprus, before getting his first real shot at top-flight football playing for Olympiakos Nicosia, a first division side playing in the Cypriot league.
Nunes was gaining experience on the pitch and returned to his home country, playing for Trofense and Portimonense for one and a half seasons in the Portugese second division. His biggest break would come half way through 2012, when he was signed by MSK Zilina.
MSK Zilina are a successful team in Slovakian football after winning six league titles since 1993. The club played in the 2010-2011 edition of the Champions League, its greatest achievement in European football so far.
The Slovak Superliga is Nunes's new competition and the left-back has been known to have an excellent free kick and has already scored a goal for the club which sits second on the league table.
Nunes has seemed to have done the hard yards during his career so far, playing in nondescript leagues for largely unknown clubs. His hard work may have paid off though if he can shine on the international stage.
He is an attacking player and an "exciting" player according to Igesund, a style which fits right into the kind of attitude the coach wants in his Bafana squad. If Nunes can add an extra element of attacking prowess he will have done his job.
He has been given many plaudits for his set piece ability. A free-kick specialist would be a real asset in the South African set-up, which needs a player who can deliver from dead ball situations.
Nunes's first challenge will be adjusting to the Bafana Bafana style of play and getting to know a large group of players in such a small space of time.
Gordon Igesund believes the left-back has something special about him, whether it is technique or his style of play, Bafana Bafana fans will have to wait and see. Nunes will be hoping that his first cap for Bafana Bafana is not his last and will be out to prove himself.
Even though much has been revealed about the player, he will still remain a real enigma to South African fans until he steps out onto the pitch at the Warsaw Stadium on Friday evening.