South Africa has always had a strong Manchester United support base. The club which is said to have 1.6 billion fans from all over the world and attracts fans with attacking, never-say-die football coupled with its display of some of the best players on the planet.
Manchester United has enthralled thousands of South Africans for years, leading to the club using the country as a pre-season training venue. Sir Alex Ferguson has expressed his fondness for the country, always keeping the Rainbow Nation in his plans for future tours.
The recent tour in 2012 saw packed houses in Durban and Cape Town, tickets selling out fast as fans clamoured to see their side in action. The fandom this club inspires is legendary throughout the world and South Africa is no exception.
South African supporters of Manchester United come from all walks of life, creating a community of support which is found across almost every province. A Red Devil supporter can be found on almost every street in every town and city.
Whether you love them or hate them, United is bound to form part of a discussion. It is a team you either support or despise, such is the nature of South African fans.
Walk into a sports bar when a Red Devils game is on and all you can see is a blaze of red. Celebrations are shared and so too is disappointment. Friendships are born as supporting the same club leads to an instant connection in South Africa.
Being a United supporter is so commonplace in South Africa, that often people remark, "Not another one!" as soon as you tell them whom you support on the pitch.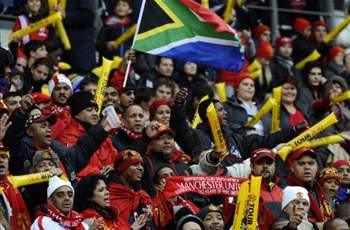 The Manchester United Supporters' Club of South Africa (MUSC) began in 1990 and is still proving to be the pinnacle of support in the country, with a strong following and a busy forum.
South Africa has developed a network of fans who share their opinions about the club's activity on and off the pitch.
Being a South African fan of a European club like Manchester United is sometimes hard for people who do not support the team to understand. People cannot fathom how you can feel a sense of belonging when you live 10,000km away from Old Trafford.
The sense of community comes from the team's insatiable desire to win at all costs. Often the team is seemingly out of a contest and fights back, creating the drama and passion every football fan dreams about.
Such is the passion people feel for this club, they revolve their lives around being a Red Devil. It is not always about winning but more about the community the club creates in South Africa and the feeling that you belong to a global phenomenon.
Every Manchester United fan always has to deal with the tag of a "glory supporter" firmly emblazoned on his or her red shirt. Often you are held in contempt by others for your choice of club. This contempt sometimes borders on hatred.
Dealing with banter by Chelsea, Arsenal and Liverpool fans is a constant consequence of being a Manchester United fan in this country. The club is either hated or loved. It is as simple as that.
Success breeds support. The club's record is one of the main reasons behind its impressive following. It has dominated the last twenty years of the English Premier League, in the process dethroning Liverpool as the most succesful British club in history with nineteen league titles.

What has inspired most South African fans to support Manchester United is their utter domination of the English game in recent history. This strength not only comes from the quality of their players but from one of the most inspirational figures in the stands, Sir Alex Ferguson.
The Club is supported because it has not necessarily bought its way to success. Granted the acquisitions of top players do occur. However, the majority of the squad is moulded and developed into what it is today.
The club's belief in a strong youth system and youth development has meant that it has created one of the greatest footballers on the planet.
Cristiano Ronaldo, a raw unfinished talent when bought from Sporting Lisbon, was turned into a legend of the club, sometimes single-handedly winning trophies for the Red Devils.
Fans respect the club's manager and his ability to turn players into gold. Such is the trust in Sir Alex Ferguson that when the club has a trophy-less season, fans know that this will not be a recurring trend.
Manchester United has always been the team to beat in the modern Premier League. Last season's final day drama, when the side was pipped at the post by their eternal rivals Manchester City, will live long in the memory of United fans.
Chelsea's renewed threat after their pre-season signings of Oscar and Edin Hazard and City's impressive squad means that Manchester United fans have a long season ahead of them, filled with potential drama, fight-backs and classic match-ups.
Every South African Manchester United fan will be talking about Robin van Persie's influence on the squad this season, the Dutch master scoring at will since his move from Arsenal. His link-up play with Wayne Rooney and the teams attacking threat in general is a mouth-watering prospect for United fans.
South Africa and Manchester United will always have a bond, as football lovers in our country will never forget the success and the happiness the club has created for its fans. Nor will they forget the late comebacks and the "until we score" extra-time goals, always a trademark of Ferguson's United team.