Bafana Bafana has lost one of their most important players to retirement. Steven Pienaar cited fatigue as his reason to quit the national set-up and prolong his successful career at Everton, where he is considered as a vital part of the club's future success.
Pienaar sent a letter to coach Gordon Igesund which stated, "It is with regret that I wish to inform you that I am no longer available for the national team.
"I'm proud to have played for and captained my country, and for that I thank you."
Igesund told reporters, "I am disappointed that Steven has retired from the national team but the way he has retired is the right way. I think it was a tough decision for him.

"His presence and leadership is invaluable and could have helped us in our mission for 2013 Africa Cup of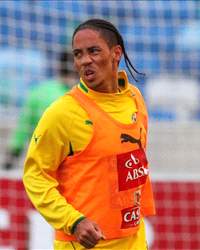 Nations and the World Cup qualification but we must respect his decision."
The retirement comes at an important phase of the national team as they build towards hosting the African Cup of Nations in 2013. The team would have relied on the midfielders experience and skill during this period.
Pienaar's retirement could be costly for the national side as his pace; passing and crossing ability made him one of the more technically gifted South African players in a generation.
The PSL has been known for its pace and physicality rather than its technical nuance. The majority of the national side comprises players from South Africa's local league. Bafana Bafana has always lacked players which have the technical brilliance found in the major European leagues.
However Steven Pienaar made himself the creative architect of the national side for ten years. His position and role in the midfield was significant during this time as he became one of the main instigators in attack and could also hold onto the ball and create space with pinpoint passes and penetrative through-balls.
The player's history proves his quality is largely unmatched in the national set-up. He was born in Johannesburg and plied his early trade at Ajax Cape Town, where his skills were for all to witness at an early age.
The Ajax youth setup crafted the young man's talents into an impressive package of pace, vision and creative passing.
Ajax Amsterdam signed the player at the age of 18 and he was a part of the team which won two Eredivisie titles in 2002 and 2004. Pienaar has played alongside some of Ajax's greats such as Zlatan Ibrahimovic and Wesley Sneijder.
He was a pivotal cog in the midfield for Ajax which paved the way for his move to Borussia Dortmund in 2006. The two year stint at the Bundesliga club was not as successful and in 2008 Pienaar joined Everton where he rediscovered his match winning capabilities.
He has become a leading midfielder in the English Premier League and his return to Everton this season after a largely uninspiring move to Tottenham Hotspur in 2011 has been the catalyst behind his decision to retire from international football.
Everton's manager David Moyes has denied any rumours that he encouraged Pienaar to retire from Bafana Bafana duty, stating that it was a wholly personal decision by the player. Gordon Igesund has called out to Bafana Bafana fans to respect the midfielders decision and to move on.
Pienaar is nicknamed Schilo after Italian footballer Salvatore Schillaci who was the Golden Boot winner at the 1990 World Cup. He was never as prolific in front of goal for the national side, only finding the net on two occasions, but his role was not to score but to create and this he did with aplomb.
He played in difficult periods for Bafana Bafana but has also been a part of some of the most exciting times for the team. He made his debut in 2002 against Tunisia and ended his career after notching up forty-six caps and playing in two World Cups.
Pienaar was in the squad which travelled to South Korea and Japan for the 2002 FIFA World Cup. Unfortunately the team missed out on the 2006 World Cup in Germany, but Pienaar played in all three matches in the 2010 World Cup in South Africa.
He cited exhaustion as the reason behind his lack of impact during the 2010 tournament, after he failed to impress and show the kind of form he was displaying in the Premier League which had earned him the title of Everton Player of the Season in 2009/2010.
He was named vice-captain during the 2012 World Cup and was named captain of the side following the retirement of Aaron Mokoena. The experience he holds trumps the majority of players in the current squad.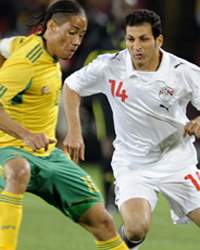 Even though he has been a part of a side which has failed to convince in the last decade and which has slipped down the FIFA rankings, Pienaar's importance cannot be underestimated.
Pienaar was a vital aspect of the national set up and was one of the key elements of the midfield. His experience in Europe set him apart from other players in the team which meant that he often had to play under immense pressure to perform.
He also played in some of the toughest leagues in Europe, meaning that he had to travel far distances in order to do his national duty. Pienaar played under a certain amount of duress throughout his career.
Often Pienaar would have to play in more of a holding position in the midfield for Bafana which meant his attacking talent was not always realised during his time with the team. He may not have been a prolific player for the side but his creativity and skill will be a severe loss.
Bafana Bafana has struggled to score goals in recent times. Pienaar was one of the main creators in the team, a midfielder who could read the game and create space for strikers with accurate passing.
Bafana has certainly lost the best player in its current squad and will have to find a way to move forward and replace Pienaar's role in the side. His creative spark will be a missing factor during the African Cup of Nations next year.