In an exclusive interview with Goal.com South Africa, Igesund discusses his future plans, the attitude and playing style he believes in and the loss of Steven Pienaar
Gordon Igesund is a coach on a mission to bring African Cup of Nations success to South Africa. He wants to impose his own attitude on the Bafana Bafana squad, by using his vast knowledge of the local game. He believes that if this team becomes a unit, they will be a success in 2013.
The pressure of hosting a tournament like the African Cup of Nations seems to not faze Igesund, as he has a strong belief in his ability to guarantee Bafana Bafana fans an attacking and cohesive outfit.
Igesund spoke to Goal.com on Wednesday about his assessment of the team so far and yesterday's announcement of the squad's friendlies against Poland and Kenya.

After Bafana Bafana's positive displays against Brazil and Mozambique recently, do you feel that the team is showing signs of progression? How do you think the team can build on these results and progress further?
Those two games were very early for us. I had only been with the team for three or four days before the first game against Brazil. What I was happy with was the commitment and the attitude of the players.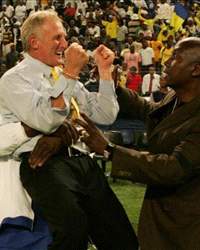 They were able to grasp the tactical discipline on the field, so soon after only four days. Brazil is a very good team. It was a good sign that we were able to keep certain players in their team very quiet.
We kept Neymar quiet, the top quality player hardly got a touch of the ball. Lucas and Oscar were also kept very quiet. We never allowed them to play their game.
I was very impressed the way the players went out there and got the job done the way we expected them to do it. They showed good signs of maturity.
They showed good signs of understanding the tactical discipline that was needed in this game. I would have liked to have kept the ball a bit better and scored one or two goals but it was a difficult game and that wasn't to be.
In the game against Mozambique we scored the goals but we gave the ball away a bit. We do have quite a bit to work on and it was the first time the team had played together like that. I was very happy with the outcome.
How do you feel the upcoming friendlies against Poland and Kenya will test the side?
I'm using these two games to have a look at players. Time is running out before the African Cup of Nations and I need to find a pool of players and I need to be able to know who are going to be my best twenty-three players.
Everybody is fighting for a place in this squad. Everybody would like to be in the AFCON. I think this a good sign. It gives me a great opportunity to try a whole lot of new players. Winning and losing at this point is not so important.
What is important to me is to see which players can make the step up to the international level. After these two games I will be able to make up a squad of twenty-five players. I can't just think that I have to win and play the same players all the time.
I need to try out a whole lot of new players without focusing on winning. This is why I am trying out new players like Ricardo Nunes and George Lebese in the next two friendlies. I need to know that these guys can step to plate and are going to give us something for the AFCON.
Obviously the loss of Steven Pienaar is a huge blow for the side due to his quality, what do you think the best way is to move on and find a way to replace his role in the side?
There is no special way. The bottom line is as a coach I am disappointed, as Steven would have a made a huge difference to our squad and has played at the highest level in England and I would have loved to have worked with him.
Unfortunately he decided to retire. The best way forward is to wish him good luck. We need to respect his decision. He has given ten years of good service for the team and we need to respect that and move on.
Not one player makes a team. I have got players that will step up to the plate, so the best way is just to move on.
In terms of the AFCON, what are some of your goals leading into the tournament? What aspects of the team do you want to improve?
I think it is very simple, we are playing at home and we are hosting the tournament. I think it's very important that we get into a situation where we can go all the way.
The team must be well-drilled and I must be able to work with them. Once I've got the final squad together we can start working on the technical approach to the game.
We'll know who the opposition is probably by next week some time. Once the draw is made and we know who is in our group, obviously the planning becomes more clinical and exact.
You want to be in a position three to four weeks before the tournament starts that you've got your squad and you can work with them.
Each and every player will know their role in the team. I want to try and get to this sooner rather than later. I want the team to become a unit. Every player needs to know what is expected of them in order to achieve our success.
Your experience in the PSL is rich and successful, how are you hoping to use your knowledge of the South African game as Bafana Bafana coach? Why do you think this local knowledge is so important?
I think it is very important to understand the culture of the players and how to get across to them and get them to believe in themselves. I know how to get them to really play the way they are able to.
I am sure that there are players who I can get a lot out of. I want to get them to full confidence. This takes a lot of time which is why I am doing things so quickly.
This is why I made nine changes to the squad. I need to see this new group of players and see who can fill certain roles in the African Cup of Nations.
The national team has been plagued with a lack of goalscoring and finishing for a long time, do you feel this is more of a mental block, as the team has quality goalscorers in its ranks with impressive domestic records.
I don't think this is a mental block. I just think its possibly the way we have been playing before. We haven't been playing offensive football.
My style is to play offensive football. As you can see from the team I have selected, they are a very offensive team. I think if you play counter attacking football only, that means you are not going to be scoring a lot of goals. You'll be lucky to only get one or two chances a game.
I don't want to play counter attacking football. I want to play normal attacking football with a lot of flair and with players getting forward playing high-risk football. This is what I want to work on with the team.
This is why I am in such a hurry now to have a look at players. I want the team to gel and start playing the type of football I am looking for. I want to be playing two strikers, two wingers and get six people in the box whenever we attack.
It will be a lot more attacking than our players will have been used to. I don't think it's a mental block, scoring goals is a natural thing. We've got the players to do that.
We want to put teams on the back foot and put them under pressure.