Pretoria University have made an unbeaten start to their comeback PSL campaign in fine fashion, winning two and drawing two against strong opposition. Friday evening's 3-2 victory against Moroka Swallows, the MTN8 finalists, was a true indication of the potential the team possesses.
The most impressive aspect of the result was Mame Niangs debut for AmaTuks, where he scored two goals and showed his ability to threaten defences both on and off the ball.
Steve Barker told Goal.com about what he thought of Niangs man of the match performance.
"It was his debut game for the club and I think it went really well. It was clear to see he was very difficult to deal with. He took his two goals really well. He takes a lot of attention away from other players. The Swallows defenders were very worried about him and he created a lot of space for other players," Barker said.
The Senegalese has had experience both in the PSL and the Bundesliga. He has a proven goal scoring ability according to Barker and will be given a lot of game time by the AmaTuks coach in order to improve his confidence and match fitness.
Barker revealed what he feels the player has in his armoury.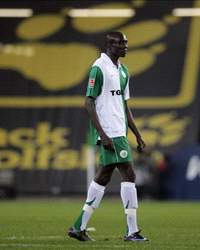 "He has a good heading ability and he is not afraid to shoot. He is like an old school striker.''
"I know he is a goal scorer. If given enough game time and opportunity he will score goals."
Barker believes that Pretoria University's early season success is a result of their hard work in the off season and his players' commitment to the cause.
"There is a really good vibe amongst the players. There is unity in the squad and commitment from the players. Everyone knuckles down and everybody is working hard and there is a good competition for places. There is a willingness to work hard for one another," Barker told Goal.com
AmaTuks started the season as potential relegation candidates, due to the lack of experience in their squad. However Barker believes that with their strong technical team, their never-say-die attitude and the talent he has in the squad, anything is possible for his side.
''We didn't start the season with a survival mentality. We know what we are about. We are aiming to finish as high in the league as we can. After 10 or 20 games we will start to realign our thinking. At this stage it's all about getting as many points as quickly as possible. We want to take it one game as a time, put everything we have in each and every game.''
"I think we are still a work in progress. A lot of the players are still finding their feet. We will definitely improve as the season goes forward. I think there is still a lot more to come from us."