SPECIAL REPORT
By Chris Myson & Alberto Pinero
Karim Benzema's career has undergone an amazing transformation in the space of just a few months.
Having scored six goals in as many matches and an impressive 11 since the start of 2014, the striker's stock at Real Madrid has arguably never been higher.
As recently as October 26, it looked as if Benzema's days at Madrid were numbered. Dropped for the
Clasico
against Barcelona, he had scored in just one of his side's previous 10 games.
He was being consistently booed by the club's supporters; a spell of jeering that peaked when, after missing a glorious opportunity to score, he was substituted in a Champions League tie against Juventus.
Around the same time, Benzema was enduring ridicule back in his homeland for a disastrous run of form with France. Astonishingly, he failed to score in 17 consecutive international matches.
He has since turned that drought around too, netting four goals in five caps for the national team and playing a key role in helping
les Bleus
past Ukraine to qualify for the World Cup.
After ending the run in October, the striker admitted he had suffered with his poor form for club and country, saying: "This has been the most difficult period of my career. It has been tough for me, but I never stopped believing in myself."
It has been an up-and-down journey for the 26-year-old forward since he arrived at the Bernabeu in the summer of 2009 in a deal eventually worth over €40 million. It is only now that Madrid are ready to fully commit to Benzema as their main man in the No.9 position.
At most clubs, a striker who has played over 200 games and scored over 100 goals would have already secured iconic status, but Benzema's four-and-a-half seasons have been unconventional.
KEEPING KARIM


BENZEMA'S STATS THIS SEASON

TOTAL APPEARANCES
STARTS
GOALS
AV. GOALS PER GAME

36
33
21
0.58


BENZEMA'S OVERALL MADRID RECORD

TOTAL APPEARANCES
STARTS
GOALS
AV. GOALS PER GAME

219
155
108
0.49

He has drifted in and out of favour with both the fans and his coaches, but in Carlo Ancelotti and, significantly, assistant Zinedine Zidane, he has now found two avid supporters.
Even when being booed and criticised earlier in the season, the former Paris Saint-Germain coach gave him full public backing. The coaching team resisted repeated calls to replace him with Alvaro Morata.
That faith has been rewarded with Benzema's upturn in form, which has intensified since the turn of the year. A number of his strikes have come in crucial games – two against Villarreal, one against Atletico Madrid and another double in Europe against Schalke.
He also netted the vital first goal against Celta, Osasuna and Espanyol, playing a key role as
los Blancos
move into an impressive position. They remain in the running to win La Liga, the Copa del Rey and the Champions League.
Ancelotti said ahead of the game with Levante on Sunday: "Benzema is comfortable in the side and with our style of play. He is concentrating hard on his work and that is paying off."
For the first time, Benzema is in favour with the club's support, the coach and the board. For most of the last four years, at least one of those groups – and often more – have been against him.
Benzema finds it harder than most to win support from the terraces. His deliberate movements on the pitch and introverted personality can make him appear to lack passion. He is not a pure goalscorer either, unlike many of those who have historically played in his position for Madrid.
Those factors can make him an easy target compared to established stars such as Cristiano Ronaldo and Sergio Ramos or enthusiastic youngsters like Jese and Morata. He receives less patience than most team-mates are afforded when hit by a spell of bad form.
His current exploits are gaining widespread recognition, but he has impressed in the white of Madrid before. He did score 32 goals in all competitions in 2011-12, although that was overshadowed by Ronaldo netting a sensational 60 and Jose Mourinho ending Barcelona's run of three-straight Liga titles.
Gonzalo Higuain was a constant rival for selection in his first four years. With only one place up for grabs at centre-forward, his high-profile colleague was always waiting to pounce. It was rare for either to see out a full 90 minutes and a poor performance from one would mean the other quickly came into favour.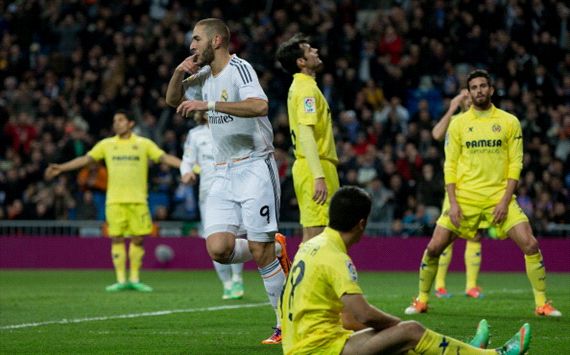 A man in form | Benzema's goals against Villarreal were two of many in 2014
Last summer, Madrid sold the popular Higuain, who had become disillusioned in the Spanish capital, to Napoli. It was a show of faith in Benzema when the club resisted temptation to sign another striker and instead spent €100m on Gareth Bale. That trust made his early-season struggles harder for some to take.
But the club are now convinced by his performances and his role as the starting forward is set to continue beyond this season. Ancelotti's support is a crucial factor, as is the belief that the Frenchman's playing style perfectly complements the team's two most marketable and expensive stars: Bale and Ronaldo.
The rise of Benzema comes at the perfect time in terms of his contractual situation. The six-year deal he signed after joining the club expires in the summer of 2015 and negotiations are already under way to extend that, with the club hoping to have things tied up before the World Cup.
Providing he agrees to sign, there are no proposals for a big-money attacking arrival in the summer. Of course, you can never say never with Florentino Perez - but plans for the future of the striker spot are currently centred around Benzema. With every goal he scores, that position is strengthened.
As much as the club admire prolific Premier League duo Luis Suarez and Sergio Aguero, both are likely to command a huge transfer fee, which is not appealing when Benzema is performing so well.
Radamel Falcao is an often-touted option who represents a slightly different style to those targets and Benzema - that of a 'true No.9' - but the ex-Olympique Lyonnais star is the man in possession of the shirt.
The club are aware of the problems caused by two high-profile central forwards competing in the same squad and believe it is a counter-productive policy having had the France international and Higuain at the same time.
This summer, Madrid want to sort out the goalkeeping position if one of Casillas or Diego Lopez leaves, sign two full-backs and potentially replace Angel Di Maria. A new striker is not one of the priorities.
All Benzema has to do to keep it that way is sign a new contract and, of course, keep the goals flying in as the big trophies are decided.
Follow Chris Myson on

Follow Alberto Pinero on