DEBATE
By Peter Staunton & Paul Macdonald
Bayern Munich took European football by storm last season, romping to an historic treble under Jupp Heynckes. The Bavarians were expected to continue their domination in 2013-14 under new coach Pep Guardiola, but the former Barcelona boss has not had things all his own way so far.
Bayern struggled to a penalty shootout victory over ten-man Chelsea in the Uefa Super Cup, were defeated 4-2 by rivals Dortmund in the German Supercup and trail their domestic rivals in the Bundesliga after drawing with Freiburg.
Despite winning all their other games this season, Guardiola has been heavily criticised in some quarters for his decision to change Heynckes' 4-2-3-1 formation to a 4-1-4-1, and also for selling Luiz Gustavo to Wolfsburg.
So are these changes ruining Bayern?
Goal
's Peter Staunton and Paul Macdonald go head to head to debate the issue ahead of the Champions League opener against CSKA Moscow.
"TEAMS WILL LOOK AT PEP'S BAYERN AND SEE FRAILTIES"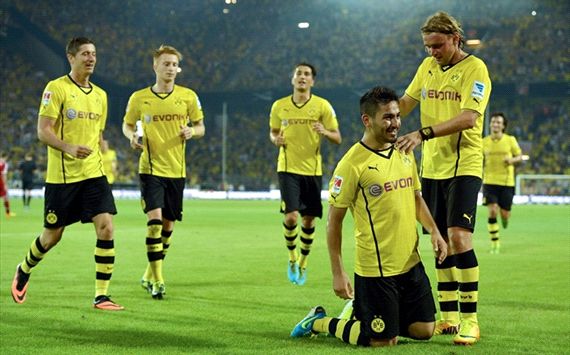 By Peter Staunton
In his haste to recast Bayern Munich in his own image, Pep Guardiola has exposed vulnerabilities in a team which did not previously suffer from them. He cannot claim to have compensated for these new weaknesses with added strength in other areas, either.
There is a lack of cohesion in the Bayern ranks in the early days of the Guardiola reign. That opinion was voiced by sporting director Matthias Sammer in the wake of the routine dismissal of Hannover at the weekend. He suggests the players are hiding behind the coach and allowing him to accept the criticism for their lacklustre displays.
Guardiola, after the German Super Cup, came in for widespread criticism as his preliminary experiment of starting one holding midfield player carried on into the season proper and backfired. No Javi Martinez and no Luiz Gustavo meant no cover for David Alaba or Philipp Lahm in the full-back positions, a chink which was exploited time and again by Dortmund.
Their economical domestic performances against Monchengladbach and Hannover will not be the ones to mark him as a success or failure. He will be judged on the big games, and facing Jurgen Klopp's settled unit will be of the utmost importance now.
As will Champions League form. Canny teams will look at the current Bayern set-up and see frailties, chief among them a lack of defensive solidity that was integral to their success last season and an insistence on playing players out of their natural positions. Unless we were all missing something, Lahm has not been a midfielder masquerading as a full back his entire career while Thomas Muller's quest to find an identity in the team goes on with a third position in three seasons.
Granted, injuries to Bastian Schweinsteiger, Javi Martinez and Thiago Alcantara have inhibited Guardiola's midfield options but at this stage, everyone, including him, are none the wiser as to his best XI.
Bayern did a lot to shed their FC Hollywood tag in recent seasons; the tumultuousness associated with it bringing negative and damaging connotations. That stability came through the serenity and trust of Jupp Heynckes. If, by the winter break, Bayern haven't got it right in Europe or on the home front, the pressure would certainly be on and the future as written by Pep might be torn up for a more familiar script.
Follow Peter Staunton on

"WHY CAN'T PEP EXPERIMENT WITH TREBLE WINNERS?"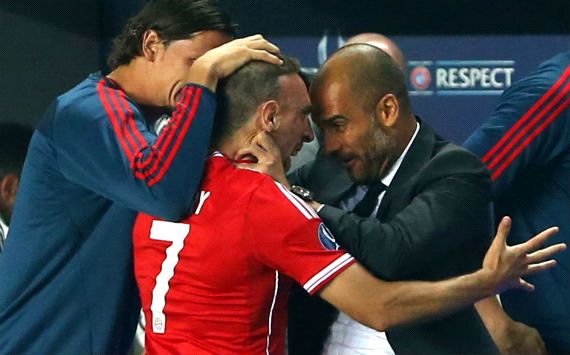 By Paul Macdonald
Eight games. Eight competitive games Guardiola has been in charge, and already everyone has him figured out. The vitriolic dissidents point to a lack of understanding of where his players will operate best, a fundamental tactical failure in his insistence with 4-1-4-1, and general displeasure at his attempt to reinvent a team that, well, didn't need reinvention.
Eight games. This is a quintessential example of the unreasonable timeframes football now operates in; a coach moving into a new culture and surroundings, one who is willing to test the capability of his squad, and is lambasted for that very ambition.
You don't have to endorse the decisions that Guardiola has made in order to defend the rationale in making them. The 4-1-4-1 may well prove a fruitless venture. Lahm is likely to be reinstated at full-back permanently before too long.
But if Guardiola can't critique a treble-winning team and experiment with experienced internationals in a variety of positions, then when can anyone? This isn't a situation where a coach is stubbornly enforcing his ideals on a group of players that neither understand nor endorse them; Bayern in 2013-14 is not such a fundamental departure that bewilderment has ensued. Whether or not you agree with Pep's view that Lahm is the most intelligent player he has ever worked with, then surely you must understand the context in which the two-time Champions League winning boss makes such a remark.
Barcelona are arguably the greatest team of the new millennium, and yet, in Pep's eyes, Lahm's intellect surpasses all of that talented squad. By that reasoning, why wouldn't you wish to utilise such talents in a role offering more responsibility?
Taking the mantle at a team that swept all before them with consummate proficiency, the analysis of Guardiola's every alteration, every tweak, was destined to come under the most pertinacious scrutiny. Had Pep maintained the status quo, he would have been accused of riding Heynckes' success, and of lacking in fresh concepts. Now that he has looked to incorporate his own ideas into the Heynckes template, he is dismissed as the man attempting to tinker with perfection.
How many teams continue to collect trophies without progression? Would Heynckes have been happy with his creation, or would he, too, have seen the desire to create Bayern 2.0? If the answer is the latter, then what Pep is doing is logical, rather than revolutionary.