COMMENT
By Sam Lee in Manchester
It was party time in Manchester on Monday evening as tens, possibly hundreds, of thousands of
Manchester United
fans flooded the streets of the city to hail their
Premier League
title-winning heroes. But this was no ordinary title parade.
MAN UTD'S TITLE PARADE
IN PICTURES

ALL-ABOARD! The open-top bus sets off on parade route through Manchester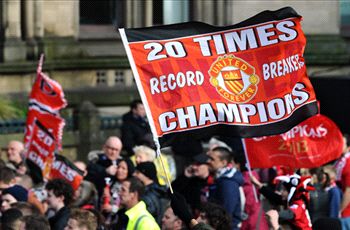 FAN-FARE: Supporters line the streets to greet the Premier League champions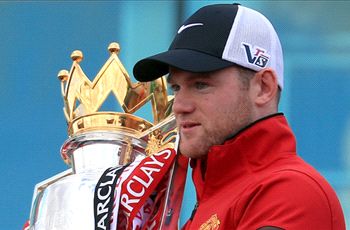 WAYNE BOONEY: The want-away striker is booed by a number of supporters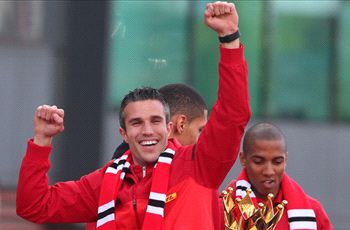 ROCKIN' ROBIN: Van Persie is in party mood as he celebrates his maiden title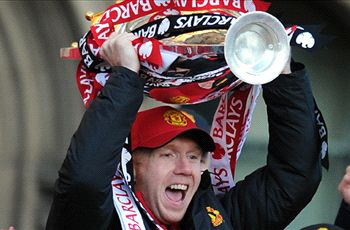 OVER AND OUT: Scholes lifts the trophy ahead of his retirement this summer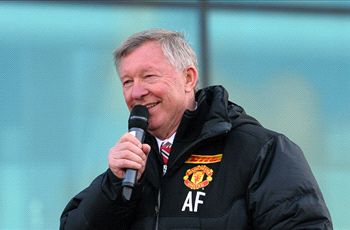 TAKING THE MIC: Sir Alex addresses the crowd on an emotional evening
This was a goodbye to a man who has brought trophies and tears in abundance over 26 glorious years. Sir Alex Ferguson will step down as United manager after Sunday's game against West Brom, and with a 20th league title long since wrapped up, it was time to party.
Fans from far and wide descended on Old Trafford, the starting point of an awe-inspiring parade that would last over two hours and end with a mini concert in Albert Square, keen to be part of Sir Alex's long goodbye.
The celebrations started on Sunday, when more than 70,000 United fans gave the legendary manager his Old Trafford send-off. Tickets for the game against Swansea were sold for many times the face value, with one man confessing to paying £400, his family's summer holiday fund. Other supporters unable to fork out such amounts on the black market took their opportunity on Monday to line the streets of a city which, if not already, has become their home thanks to fortnightly visits to see Sir Alex and his team.
Even the driving rain could not shift those fans who had turned up four hours before the parade began. They had secured a spot beneath the statue of Sir Matt Busby that adorns the front of Old Trafford and were in the perfect place to witness Sir Alex and his group of winners board the specially commissioned bus. They would not be cowed by the elements. "We couldn't get tickets for the match yesterday so we promised ourselves we wouldn't miss this for the world," one soaked couple insisted as the afternoon threatened to be a washout.
But the rain soon ceased and many thousands more supporters turned up to squeeze into position. One family found out before anybody else where the players would first emerge and secured themselves a prime spot for autograph hunting. The hours of waiting were passed by talk of all things United, the kind of chat that unites fans all over the world. Rio Ferdinand's children, who were watching the crowds assemble from inside Old Trafford, even put on a show with some hilarious dancing.
The wait was well worth it. Although some United stars were ushered towards the bus by security, the majority of the squad stopped to sign old programmes and various other keepsakes on their way out of the stadium. One lucky fan who waited next to me had his 1999 Champions League final programme signed by Sir Alex himself. In fact, many fans will come away absolutely thrilled that they managed to get a brief moment with the 71-year-old Scot, who stopped to greet more fans than anybody else. The supporters are not the only ones who will miss these great nights.
The one negative of the afternoon came when Wayne Rooney, one of those who perhaps understandably did not stop to sign autographs, was booed as he boarded the bus. The United striker has asked to leave the club yet again and supporters were in no mood to let him off, even on this night of celebration.
But, with the sun now out and the rain and hailstones a thing of the past, Sir Alex gave a brief but heartfelt speech, finishing: "[Sunday] is a day I will never forget. It was wonderful. Thank you. It was something all my family enjoyed and the grandkids will never forget it."
As the bus set off up Sir Matt Busby Way, fans climbed buildings, road signs, railings and even a particularly tall tree to get a view of their idols, who were in fine voice themselves.
Not many things are more heartening for a football fan than hearing the players belt out anthems that have been sung on the terraces for years. So it was an emotional moment when a group of United players sang about winning 20 titles playing football the Sir Matt Busby way. This was a night of joy, there were no tears to be seen despite reports that more people turned up than when United paraded the Premier League, FA Cup and Champions League in 1999.
Indeed, Deansgate provided a truly incredible scene. Fans packed the streets, leant out of windows and hung from lamp posts, waving flags and scarves and anything else with Manchester United written on it. Local shops had made banners that gave thanks to Sir Alex. One building, undergoing maintenance and fronted with scaffolding, was covered with hundreds of United fans. It was an amazing sight. Who knows what the players must have thought as their bus parted masses upon masses of people singing at the top of their voice, risking their own personal safety to catch a glimpse. It was an unforgettable experience for all involved.
But even that was surpassed by events in Albert Square. So many people had turned up that police were forced to cordon off the surrounding area, refusing access to those who had not been inside for at least three hours. The lucky ones created a carnival atmosphere; even Sir Alex and Sir Bobby Charlton were dancing to The Courteeners.
For this truly was a night of celebration, and one that will deservingly go down in the long history of Britain's biggest football club. This was a night to rank alongside all of those last-minute winners, records, breath-taking goals, scarcely believable comebacks, and trophies. This was an incredible night when a football club said thank you to an incredible man. Sir Alex Ferguson.
Follow Sam Lee on