COMMENT
By Paul Macdonald
It is official: Neymar is a Barcelona player
.
BARCA'S NEW SAMBA STAR The saga to end all sagas has reached its conclusion, and despite an attempt from Real Madrid to usurp their rivals, Camp Nou will next season feature both Lionel Messi and this floppy-haired 21-year-old in an undeniably tantalising teaming of talent.
As the 2012-13 season draws to a close, Barca, despite their fourth La Liga title in five years, are a subdued organisation. The clinical, methodical dismantling at the hands of Bayern, coupled with their own insipid capitulation, once again raised the question of
Messidependecia
. Without him this immortal team appear fallible. Without their god-like genius, they are ponderous. Susceptible. Beatable. Paris Saint-Germain almost seized upon it. Bayern relentlessly exploited it.
Messi IS Barca, some believe. Pedro, Villa, Tello, Alexis - they aren't offering enough, say others. Now, the cockatoo in the room becomes apparent; Neymar can provide that which is lacking when Messi is unable to deliver.
Barcelona's agent in South America, Andre Cury, is a fully paid-up member of the Neymar appreciation society.
"Neymar coming to Barcelona will put an end to two types of over-dependence: dependence on Neymar at Santos and over-dependence on Messi at Barcelona as we would then have another player at his level."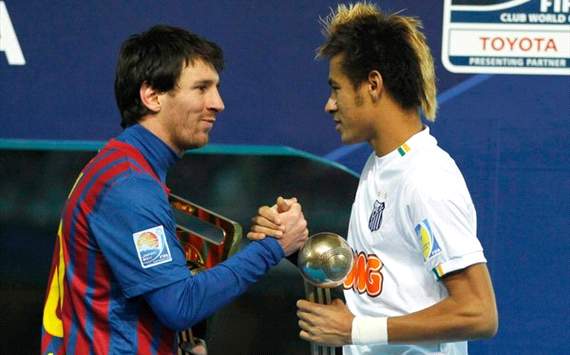 Icon & Icon | Barcelona have paired the South American superstars together


Much of the Barca baiting is, of course, kneejerk and overblown. Yes, the degree of
dependecia
can on occasion be apparent to all. But does bringing in a player such as Neymar, and the package that travels with him, positively impact that?
Whether it is healthy or not, the established order is understood by almost all. Xavi, Andres Iniesta and Gerard Pique have said as much; Messi is the man they turn to, the MVP who must be protected, indulged, even - like an NFL quarterback.
BARCA'S SOUTH AMERICAN FAILURES

KEIRRISON



Cost €14m from Palmeiras in 2009, and is yet to make a first-team appearance. Currently out on his fifth loan.
HENRIQUE

Another expensive Palmeiras purchase, but never donned the Blaugrana colours. Contract cancelled in 2012.

GEOVANNI



Signed for a huge €22m in 2001, but lasted just two seasons before being shipped out to Benfica.

JUAN ROMAN RIQUELME



Signed for €11m in 2002 after destroying Real Madrid for Boca in Toyota Cup but a huge flop in Catalunya.

FABIO ROCHEMBACK



The Brazilian barely produced a performance of note in two miserable seasons at Camp Nou.
And he's earned their obsequiousness. 310 goals, three Champions Leagues, four Ballon d'Ors. His team-mates recognise he is better than them. It's taken years of proving this on a consistent basis to bring us to this point, the
Messidependecia
that is almost accepted practice.
The current pyramid of power sees Messi placed as close to the pinnacle as it's possible to be; Tito Vilanova and Sandro Rosell are, and probably should be, bound by the needs and wants of the man who has made the modern incarnation of the club the fantasy of even the most emphatic
Cule
.
Neymar changes all that. Leaving aside the fundamental flaw in regarding a player who, with the greatest of respect, has produced fleeting moments of brilliance against a level of opposition that falls considerably short of the European standard, in the same breath as Messi, Cristiano Ronaldo, or even Zlatan Ibrahimovic, is completely ludicrous.
Leaving aside everything about him as a player; how his selfishness in possession, his wastefulness in pursuit of self rather than team dynamic, is the antithesis of everything that Barcelona are, and will look to retain.
Leaving aside this extrapolated transfer saga, creating a sense of wonderment and unfair anticipation as to what he can conceivably achieve.
Barcelona's apprehension should be primarily concerned with the fact that Neymar is a sponsored behemoth. He represents Football 2.0; a box office hit, created in advance of his achievements. An 'A' list film star purely based on the trailer alone.
The seemingly innumerable parties with a vested interest in Neymar make him a sideshow act, one that juggled on the wing to lure the highest bidder. Neymar's playing time becomes as much about endorsements and screentime as it does with his compatibility with Messi or the Barca philosophy. Hell, Madrid offered him more money, but Nike ramped up the endorsements.
Andre Cury further escalates the optimism. "Messi will be able to pass on the baton to Neymar, just like Ronaldinho did with Messi."
Such high praise seems incompatible with how a young, burgeoning star - and let's face it, that is all Neymar is, at just 21 - should be managed when moving from South America to Europe. Players generally switching continents for superstardom are coddled, but ultimately protected from reaching a scenario where their reputation precedes them. Few make the grade, even less can handle the pressure. Barca have been burned before.
Yet in Neymar's case, the opposite seems to be true. There is a crushing ambition to have the Brazilian mentioned in the same breath as Messi and Cristiano Ronaldo. If ever a player has been set up for a monumental fall, it is poor Neymar - stuck in a faux-environment where, in the minds of many, he is already a better player than he is ever likely to become.
Follow Paul Macdonald on