COMMENT
By Oliver Platt
This, all things considered, was a remarkable collapse. After 11 minutes,
Manchester United
had a 2-0 lead against a
Chelsea
team whose defensive frailty was just the tip of their iceberg of problems.
Not long after Wayne Rooney's free kick drifted into the far corner, the chants began - 'Rafa Benitez - you're not welcome here' - and the glimmers of life Chelsea showed towards the end of the half were largely ignored. United, certainly, did not read the warning signs.
MAN UNITED 2-2 CHELSEA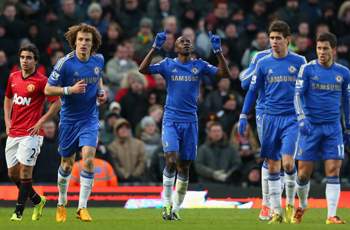 | | | |
| --- | --- | --- |
| | 5' | GOAL! Chicharito heads home |
| | 11' | GOAL! Rooney makes it 2-0 |
| | 59' | GOAL! Hazard pulls one back |
| | 68' | GOAL! Ramires forces replay |
MAN OF THE MATCH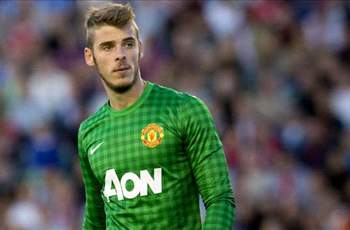 DAVID DE GEA






Was alert to stop a dipping shot from Luiz but could do little to prevent Hazard's perfect strike bending in the top corner and could only watch Ramires' equaliser fly past him. Showed his class to deny Mata's last-minute strike.
Whether Benitez can be credited with making the substitutions that changed the game is a matter of opinion - some will claim Eden Hazard and John Obi Mikel should have started in the first place. But Hazard, regardless, set things in motion with the moment of quality Chelsea required before Ramires levelled. Juan Mata could have finished United off if not for some superb goalkeeping by David de Gea.
As much as mitigating factors played their part in midweek, this is the second time in six days United have succumbed to two second-half goals at Old Trafford. Nani's sending off against Real Madrid does not need covering but, as hard done by as they were, United were powerless to resist the subsequent onslaught.
But while they at least made a go of it in the closing stages against Mourinho's side, United looked completely incapable of finding another red shirt, let alone the back of the net.
Earlier in the season, when United struggled severely at the back, their attacking firepower concealed the blemishes and gradually they improved. Since the New Year, they have looked a more polished team and played a tactically excellent first half on Tuesday night.
If that comes undone now, they will struggle. Robin van Persie has not scored in six games and the speculation regarding Rooney's future and
relationship with Sir Alex Ferguson
continues. Danny Welbeck and Chicharito, as capable as they are, are excellent complements to the two main men but not players that will drive United to the title themselves.
It is hardly surprising that an area of the team even as excellent as United's front four might have something of a blip, and there is no need for it to derail their season. But they must compensate for it by holding the fort elsewhere and this cup tie was not a good start in that regard.
This week has shaken them up, and how they respond now will determine the success of their campaign. The Champions League and, with it, the Treble is gone and the number of trophies on offer came very close to shrinking from three to one on Sunday.
The upside of their European elimination is that it should make the road to league and FA Cup success mentally and physically less daunting. Their Mourinho-induced hangover was present here and Van Persie did not provide much of a spark when he arrived off the bench.
Ferguson did not rest the Dutchman before either of the last-16 showdowns and that has kept their title charge on track, but it is interesting to hypothesise what might have happened had United made it past Real Madrid. Now, we can see, Van Persie is not quite as superhuman as we thought, the effects of the workload placed upon him this season and last finally becoming apparent. Nemanja Vidic, Ferguson has admitted, struggles to play two games in a week.
"I'm happy with the draw," Ferguson told
ITV
. "The emotion and the intensity of Tuesday night took its toll. We kept giving the ball away, we didn't have the legs to get back." To the
BBC
, he added: "We're lucky to be in the FA Cup. We ran out of legs. Our two full-backs, Rafael and Patrice Evra, are just knackered."
United just about survived the first test - of not losing a game after taking a two-goal lead. It is something Ferguson, astonishingly, has never suffered in 39 years as a manager. That they came so close illustrates just how quickly fatigue has crept up on them.
It was also a reminder of the quality of the rivals they will still have to overcome between now and the end of the season. As troubled as Chelsea have been in the last few months, with Mata and Hazard they have the quality to win any match. Manchester City have responded to their shock defeat to Southampton well, with Costel Pantilimon and Joe Hart unbeaten in four games since then.
United are still to play both side in the league and will need to beat them both to win the FA Cup, too. Ferguson's team remain in control, but they have been reminded, if last season's crushing Premier League finale had escaped their memory, that they are not untouchable.
Follow Oliver Platt on