COMMENT
By Ewan Roberts
What a difference a year makes. On this very day last season,
Andre Villas-Boas
was being handed his P45. Living in a Japanese-style pod at
Chelsea
's Cobham training ground, the Portuguese was painted as a sort of feral and manic scientist, a false prophet.
Fast-forward a year and Villas-Boas' new side, Tottenham, have moved up to third place in the table courtesy of a win over north London rivals Arsenal, overtaking Chelsea in the process. The Portuguese's rebirth has coincided with that of Spurs, who were as down in the dumps in March of last year as the 34-year-old.
TOTTENHAM 2-1 ARSENAL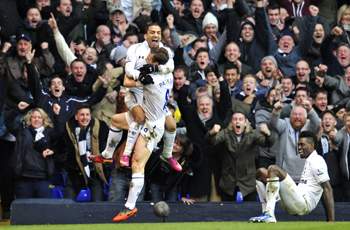 | | | |
| --- | --- | --- |
| | 37' | GOAL! Bale makes it 1-0 |
| | 39' | GOAL! Lennon adds a second |
| | 51' | GOAL! Mertesacker nods home |
MAN OF THE MATCH

JAN VERTONGHEN





Offered some respite from Arsenal's dominant possession control by calmly retaining the ball. Showed good awareness to step up and intercept several dangerous through-balls, and made a great recovery challenge on Walcott. An excellent display.
Spurs fans, and Villas-Boas himself, have been understandably cautious about overplaying the gap developing between them and Arsenal given their implosion from a similar position last year – there has been no #mindthegap hashtagging just yet. But this isn't like last time. A year ago, the Gunners were in the ascendancy having thrashed Tottenham 5-2 at the Emirates, now it is they who face a crisis.
"The difference from last year is that we are on an upward spiral in terms of confidence and they are on a negative spiral in terms of results," noted Villas-Boas after the match.
Unbeaten in 12 games - a new club record in the Premier League and their best run since the 1984-85 season - Tottenham are a side full of confidence and constantly evolving. During the opening weeks and months of Villas-Boas' reign, the team often looked disorganised and sloppy in defence, regularly conceding late goals.
Now, solid and hard to break down, six of their eight wins during their 12-match unbeaten run have been by a one-goal margin of victory and the concession of gut-wrenchingly late goals has dried up – in fact, they have started scoring a few of their own. A problem was identified, and a solution was found.
"We have increased the complexity of the tasks the players have been doing at the end of training," revealed Villas-Boas last December. "The more complex the exercise, the more concentration they need at the end."
That training ground work and tactical preparation oozes out of Tottenham's every pore, and on Sunday they looked better drilled, fitter and stronger – both physically and mentally – than Arsenal. For so long Gareth Bale has stolen the headlines, but on a day where he was peripheral (despite his goal) it was the team mentality that carried Spurs to victory.
Villas-Boas realised that he had to change, and, after eight trophyless years, Arsene Wenger ought to have had that particular epiphany by now too. Instead he steadfastly sticks to his principles, his ideology. But it isn't working.
Another big game for the Gunners, another disappointing result and yet more defensive errors (14 now have led to goals, a league high). Arsenal have won just one of eight matches against the rest of the top six this season – a victory over 10-man Spurs in November – and lost five times.
They have developed a worrying tendency to crumble for periods of matches, conceding goals in quick succession. The high line, as acknowledged by Wenger, was an error, yet it remained in place at Tottenham's benefit. Problems continue to be ignored, while Steve Bould's effect on Arsenal's defending has not been apparent since August.
How ironic it is that one of Villas-Boas' defining Chelsea matches was a harem scarem 5-3 home defeat to Arsenal, who ruthlessly exposed a dizzying high line. That game came to symbolise the Portuguese's new-fangled methods, a stick to beat him with. Now it goes to show his growth, and a willingness and ability to change his ways.
There was an irony too that Jan Vertonghen, who Wenger opted not to sign last summer, was the best player on the pitch, while Hugo Lloris, also snubbed by the Gunners boss, swept up behind his defence with aplomb as Wojciech Szczesny exuded nothing but timidity and nervousness at the other end.
In truth, Spurs had left as much space in behind their defence as Arsenal, but where Gylfi Sigurdsson and Scott Parker had managed to find the pass needed to spring the offside trap, the Gunners' collection of gifted artisans could not.
Villas-Boas, so much more adaptable and pliable now, altered his side at half-time. The high line disappeared, the full-backs tucked in and the shape of the side was far more compact. Theo Walcott had previously threatened on the shoulder of the last man, now he was struggling to find space.
Spurs remained open down the flanks, but they were deliberately sacrificed. When Carl Jenkinson or, latterly, Aaron Ramsey broke forward and crossed, their deliveries found only the head of Vertonghen or Michael Dawson (of the 20 crosses Wenger's side attempted from open play, only one found a red shirt). A lot of that is owing to the performance of Olivier Giroud, who contributed almost nothing in aerial battles.
How fitting that the last touch of the north London derby should see Spurs captain Dawson rise highest to thump yet another header clear, given that he embodies so many of the changes in Villas-Boas' outlook. The reliable, eminently likeable Yorkshireman, who has had to fight for his place, stands as a monument to the Portuguese's meritocracy, and an example of his new-found willingness to be surprised, even proved wrong.
Perhaps the most galling aspect for Arsenal is that Tottenham didn't even have to play at their best to win. Victories in the past have been more about blood and thunder, appetite and passion, about finding that mythical 10 per cent beyond full capacity. Not on Sunday, though, where Spurs exercised an understated control without ever needing to find their top gear.
So Spurs roll on, and now have their sights firmly set on Manchester City in second place and a tantalising Europa League tie against Inter. How Wenger could benefit from adapting and evolving like Villas-Boas, while Chelsea, enveloped in a grey cloud of doom and instability, might wish they had stuck with the talented Portuguese boss.
Follow Ewan Roberts on