By Mark Doyle
There is no No.17 seat in the main stand at the Is Arenas. That particular number is considered unlucky in Italy and
Cagliari
president Massimo

Cellino

, being a superstitious sort, decided that 16B would be preferable. If he was hoping that that decision would bring an end to the chaos and controversy that his stadium has been cursed with ever since its inception, he was gravely mistaken.
At approximately 08:00 on February 14,

Cellino

was arrested, along with the mayor of

Quartu

Sant'Elena, Mauro

Contini

, and the district's commissioner of public works, Stefano

Lilliu

, on suspicion of attempted embezzlement and false representation in connection with the redevelopment of the Is Arenas. The
Rossoblu
president stands accused of having secured a temporary construction permit for the arena knowing full well he intended it to be the club's new permanent home, as well as applying pressure to the local authorities to give the project the green light and rerouting funds from other council-backed ventures to make it all happen.
Cellino

, who was first appointed
Rossoblu
president in 1992, has been searching for a new home for his club for some years now, having become increasingly frustrated with the state of the crumbling

Stadio

Comunale

Sant'Elia. In 2011, he bought a plot of land in

Elmas

. However, his plan to construct a new stadium on the site was ultimately scuppered by the National Civil Aviation Authority (ENAC) in rather acrimonious circumstances, with

Cellino

claiming that his project had been vetoed simply because ENAC wanted to sell the land at a higher price to a company called

Sogaer

, who were hoping to expand the nearby airport.
This outburst hardly help to soothe Cellino's relations with the local council, with whom he had been in constant conflict with over the Sant'Elia, and

Cellino

dramatically arranged for the Islanders to play their final few games of the 2011-12

Serie

A season at the

Nereo

Rocco in Trieste.
STADIUM SHENANIGANS
Key games hit by

Cagliari

chaos


Sep 2




Cagliari

's first outing of the 2012-13 season, against Atalanta, is played behind closed doors due to safety issues.

Sep 23



The

Rossoblu

's match with Roma is called off, and ultimately awarded as a 3-0 win to the

Giallorossi

, because of public order concerns.

Nov 10



Local authorities decide at an emergency meeting the night before to close the main stand for the meeting with

Catania

.
Dec 21

The clash with

Juventus

is moved to

Parma

, much to the displeasure of

Cellino

, who blames the Bianconeri for the switch.

Feb 10



After a week of uncertainty,

Cagliari

's game against Milan is allowed to go ahead at the Is Arenas.
"In the Sant'Elia even the most basic safety situations are absent," he told
Corriere

dello

Sport
at the time. "If you risk your life in a stadium, then you cannot continue this way."
Indeed, by that point,

Cellino

had decided that

Cagliari

would set up temporary residence at the Is Arenas. With the small sporting complex in

Sant'Elena

having only previously staged amateur-level games, it was clear that the venue would require a dramatic and rapid face-lift if it was to be ready in time for the start of the 2012-13

Serie

A season.
But it was not. The club's first home game of the current campaign, against Atalanta, had to be played behind closed doors, while their second, against Roma on September 23, was called off at the eleventh hour after a late-night meeting involving the

Cagliari

prefecture and local police over public order concerns, with

Cellino

having urged fans to attend the game even though the ground had been deemed unsafe. The league's disciplinary commission awarded the
Giallorossi
a 3-0 victory, a decision that infuriated

Cellino

.
"A large part of my sporting soul died today," he told reporters after the ruling was announced. "This sentence has nothing to do with sport. It is like a horror movie. I will have to rethink my involvement with the club after 21 years in which I have given everything."
He ultimately decided to temporarily suspend himself as club president, though only because he felt it a necessary step if required to "defend himself in all courts".
Cagliari

were scheduled to play before a fully open Is Arenas for the first time on November 10, against

Catania

, and

Cellino

promised to celebrate the occasion by treating the capacity crowd to a rendition of 'Ave Maria' on guitar. It never happened, as the main stand was kept closed on safety grounds following an emergency meeting of local authorities the night before.
And the situation was to get even worse, as the

Guardia

Forestale

closed in on the president.
The civil order police force had been investigating whether the construction work at the Is Arenas had been carried out in compliance with landscape regulations related to the nearby

Molentargius

Park. And on November 29 they raided the

Quartu

council offices to arrest two officials,

Pierpaolo

Gessa

and Andrea

Masala

, as well as Antonio

Grussu

, managing director of

Andreoni

, a company contracted to work on the stadium.
The arrests did not end there and last week Cellino, Contini and Lilliu were taken into police custody - just one day after local authorities declared that further safety checks were required to determine the Is Arenas' ongoing viability as a venue, with
La

Nuova

Sardegna
suggesting that the stadium could even be torn down if it is deemed an illegal structure.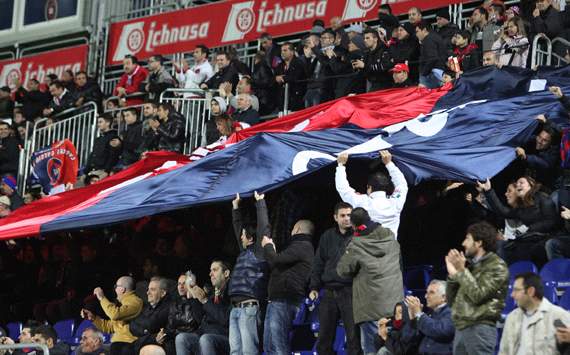 Show of support | Cagliari's fans remain firmly behind their imprisoned president
Cellino

remains insistent that he has done nothing wrong, and supporters remain fully behind their president. Approximately 200 of them gathered outside the prison in which

Cellino

is being held to listen to last weekend's win over

Pescara

on transistor radios.
However, telephone interceptions have since surfaced in the press that have cast doubt on the president's public declarations. During an alleged conversation with

Lazio

counterpart Claudio

Lotito

, he is quoted as saying: "While waiting for the concession for the final 'psuedo' stadium, I ask permission for a three-year temporary structure. They give it to you in 30 days and, like this, you have a stadium. And then, as you know, temporary in Italy is always definitive, right?"
In a separate discourse with an unidentified doctor,

Cellino

seemingly explains why he was so determined to make the move to the venue happen over the summer.
"I did it [the redevelopment] in June, July and August because if I was starting it now, I could no longer do it, because they are beginning to move, the environmentalists, the friends of the earth. We would not have done anything. They went on holidays, they came back and they found the new stadium, they could no longer do anything about it. If we had not done it before The Assumption (August 15), the stadium, we would never have done it."
In addition, while chatting with Ivan

Paone

, the current head of the

Cagliari

press office,

Cellino

insinuated that the local mayor played a key role in pushing through the redevelopment.
"Luckily we had Mauro

Contini

, who is a fan of

Cagliari

and who understands how important the team is."
Cellino, for his part, remains defiant and few would argue that he has done his utmost to find a new home for the club, but whether he has always operated inside the law in doing so is now for the courts to decide.