COMMENT
By Kris Voakes | Italian Football Writer
Many Juventus fans did not stick around to watch Anatoliy Tymoshchuk make it 4-1 - they'd already seen enough. Little did they know it at the time, but things would get worse. Their elimination from the Champions League in the group stages was just the beginning of the Bianconeri's woes in 2009-10, and the following season would not be any better either.
After a European campaign which saw them twice scrape unconvincingly past Maccabi Haifa and fail to beat either Bordeaux or Bayern Munich came a run of five defeats in six league games and elimination from the Coppa Italia. It was the end for Ciro Ferrara, but the misery had only just started, with the appointments of first Alberto Zaccheroni and then Luigi Del Neri doing nothing to steady the ship.
Truth be told, that defeat to Bayern Munich in December 2009 was the start of the rot. Having just seen their side beat Inter to close in on Jose Mourinho's league leaders and eventual treble winners, many Juventini were expecting great things to follow. Instead, there was 18 months of ignominy to come.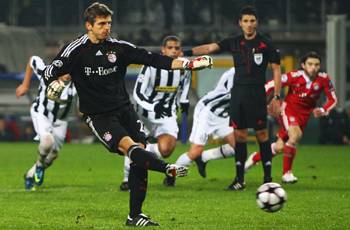 "That defeat to Bayern was just the start of the rot. There was 18 months of ignominy to come"
Consecutive seventh place finishes, an entire Europa League group campaign without a win, a thrashing at Fulham, humiliating home defeats to the likes of Parma, Bologna and Palermo … the tale of woe was longer and more painful than anything they could have imagined as they trudged out of the Olimpico on that cold winter evening after Mario Gomez had put the game beyond them.
The aftermath of Calciopoli was a trying period for the club, but there was a feeling of victimisation driving everyone on. This time, all of the damage was self-inflicted and they needed all sorts of work from top to bottom.
Tonight, Juventus step back into the Champions League having undergone a mesmerising transformation in the 33 months since their elimination by die Roten. Despite the troughs that have been experienced in between times, it is from the top of the tallest of peaks that they head for Stamford Bridge to take on European champions Chelsea. It is all thanks to their overhaul on and off the field over the last year and a half.
Unbeaten in 42 league games, boasting a ground-breaking new stadium, playing football which is the envy of Italy with a squad brimming with confidence, this Juventus could hardly be any more different from the one which last graced the Champions League stage.
Back then, there was a distinct lack of partnerships on the field. Now, the unity of the side is their outstanding quality. No more is there the feeling of dread as fans enter the ground, that was washed away when Juventus Stadium was opened and Antonio Conte's brand of football was embraced.
Along with their new home, there have been other great strides off the pitch. There is now a greater belief in the administration of the club too.
JUVENTUS IN EUROPE SINCE THEIR LAST CHAMPIONS LEAGUE APPEARANCE

2009-10 - EUROPA LEAGUE

Last 32 - Ajax (a) W 2-1
Last 32 - Ajax (h) D 0-0
Last 16 - Fulham (h) W 3-1
Last 16 - Fulham (a) L 1-4
2010-11 - EUROPA LEAGUE
3rd Qual - Shamrock Rovers (a) W 2-0
3rd Qual - Shamrock Rovers (h) W 1-0
Play off - Sturm Graz (a) W 2-1
Play off - Sturm Graz (h) W 1-0
Matchday 1 - Lech Poznan (h) D 3-3
Matchday 2 - Manchester City (a) D 1-1
Matchday 3 - Red Bull Salzburg (a) D 1-1
Matchday 4 - Red Bull Salzburg (h) D 0-0
Matchday 5 - Lech Poznan (a) D 1-1
Matchday 6 - Manchester City (h) D 1-1
2011-12 - DID NOT QUALIFY
After a difficult first term, director general Giuseppe Marotta and sporting director Fabio Paratici have brought in players who have been hugely effective in the club's rise to the top in the Bel Paese. President Andrea Agnelli, once questioned for his inability to stand up for Juventus within the wider football community, now has the backing of the vast majority of the fan base thanks to his approach to the three-star debate and the Conte touchline ban episode. It really is a world away from the days of Jean-Claude Blanc, Roberto Bettega and Alessio Secco.
But above all, when the Champions League anthem is played in west London at 20.40CET tonight, the camera will be panning across a line of black and white shirts being worn by Andrea Pirlo, Mirko Vucinic, Arturo Vidal and Stephan Lichtsteiner rather than Christian Poulsen, Amauri, Tiago Mendes and Zdenek Grygera.
Three seasons on from the beginning of the landslide, Juve are back. And as they embark on the next step of their rise back to the top of the world game, a victory over the continental kings would bury for good the bad memory of Bayern and the 18 months of hell that followed.
Follow Kris Voakes on