COMMENT
By Wayne Veysey
In
Joe Hart
,
Manchester City
has an exceptional goalkeeper. And, with a display of quite breathtaking brilliance against
Borussia Dortmund
, he showed why many consider him the best exponent of his art in the world.
But the fact that he was put in the position where he had to make half a dozen outstanding saves tells you that something is not quite right with City.
In fact, something is drastically wrong when the club can look so vulnerable at home, even against a team bursting with the kind of adventure and menace that Dortmund possess.
Yes, the Germans were unstoppable on the counterattack and, yes, in Marco Reus, Mario Gotze and Ilkay Gundogan, they possessed the three best outfield players on the sodden Etihad Stadium turf.
Indeed, Roberto Mancini admitted afterwards his team was second best and fortunate to scrape a point from their first home match in this season's Champions League.
HART KEEPS DORTMUND AT BAY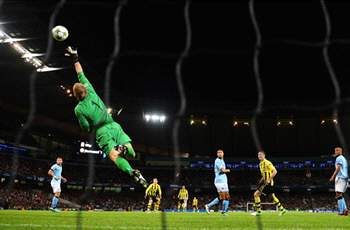 PLAYER RATING VS DORTMUND







In quite superb form. Three times denied Gotze in the first half, twice in very quick succession, demonstrating superb anticipation. Constantly in demand in the second half and constantly responded. Perhaps could have got a stronger hand to Reus' opener but, in general, the last man whom City could blame for the result.
FROM OUR LIVE! COMMENTARY

'67
"This is Joe Hart vs Borussia Dortmund now. Hummels plays a long ball over the top of the City defence, who are appealing for offside, but the linesman's flag stays down and Gotze drives into the box. His shot is blocked as far as Gundogan, whose curling shot looks to be going into the top corner until Hart makes another excellent save to tip the ball over the bar."
"Today we deserved to have conceded three or four goals because we made lots of mistakes. This is very strange for us but I know the problem and it is very big problem," said Mancini in a typically honest assessment of his team's shortcomings.
The Italian also promised to "very quickly" solve his team's problems, which he claimed was a result of attitude rather than ability.
This was not an isolated defensive disaster for City this season. In six Premier league matches, the team has conceded eight goals, topped up by a further four in the Champions League.
Had Hart not delivered outstanding home and away displays in Europe, City's goals against column could already be in double figures.
The evidence is mounting that he is being let down by the men in front of him. The personnel has not changed too drastically from last season, when Abu Dhabi's investment of 1 billion pounds in four years was rewarded with the Premier League trophy but the performances have.
No one has looked more vulnerable than Vincent Kompany, a colossal figure for the last two seasons and a man who is arguably the best center back in Europe.
But he has been below par in the new campaign, cutting a nervy and error-prone figure, whether alongside Joleon Lescott or new partner Matija Nastasic, who was selected ahead of the England defender for the second consecutive game.
Mancini clearly does not trust Lescott against A-list opponents, leaving him out against Liverpool, Real Madrid and now Dortmund, while Nastasic can perhaps be excused a poor display in such difficult circumstances, due to his lack of experience.
The young Serb was caught out of position on a number of occasions against Dortmund's nimble midfield runners, even if he could be excused a sketchy display in such testing circumstances.
Of the others, Javi Garcia looked off the pace before a thigh injury ended his participation on 33 minutes, when he was replaced by fellow summer signing Jack Rodwell.
There were a few eyebrows raised when City signed the midfielder from Everton in the summer and he has done little to dispel the impression that he has much to learn to be a consistent force at the highest level.
Just as Hart's one-man show looked like it might keep Dortmund at bay, Rodwell lost possession after playing a loose pass without looking and his error was pounced upon by the outstanding Reus.
It was symptomatic of a City performance which became more careless as the game wore on. Mancini, as is his wont, tinkered with the tactics, brought off the anonymous Samir Nasri and switched to a 3-5-2 formation but the higher line only made Dortmund more effective on the counterattack.
David Silva won the late penalty but he vanished after beginning the game brightly, while even the indomitable Yaya Toure's standards slipped as City was out-gunned in central midfield.
In total, the visitors created an astonishing 20 attempts, 12 of which were on target, even though City dominated the possession stats – 64 percent in the first half and 61 percent in the second – in both periods.
Plan A failed and so did Plan B. Mancini must look elsewhere to improve his lacklustre team.
Follow Wayne Veysey on