Following the announcement of Itumeleng Khune's placement in the 2013 Goal 50, South African football has reached new heights, with the Kaizer Chiefs goalkeeper being the country's very first player to be named in the prestigious list of world-class footballers.
Khune's achievement sparks questions over the future of South Africa's current elite stock of footballers. Do they have the potential to match the shot-stopper's success last season?
Goal selects five talented stars, including the Kaizer Chiefs goalkeeper, and judges whether or not a South African will make the list again in the near future.
Khune has laid down the yardstick. But can he repeat his feats? Goalkeepers age well, improving on their skill-sets and ironing out any mental issues which may have crept into the framework. Known for being slightly anxious under the high ball, Khune does have elements of his game which could be developed.
It could be argued that despite his continued loyalty to local South African football, Khune should test himself in the European top-flight, where he will experience the pressures, the high-intensity training and face immensely-talented strikers.
From here, South Africa's captain could once again appear in the Goal 50, as a player who has European experience and is still shining bright as one of Africa's best goalkeepers. Another avenue for Khune to continue proving himself would be a World Cup appearance in 2014, where his ability will be there for the entire world to witness. Though, he would probably have to wait for 2018 as Bafana are currently behind Ethiopia in their group.
Staying at Naturena also provides Khune with a chance to perform on the continental stage. A Caf Champions League star is a possibility for AmaKhosi and Khune will be a major factor in achieving such a triumph.
Khune, only 26, has more years and seasons ahead of him to become a legend of this current generation. He merely needs to punch above his current weight to achieve such a title. The longer he remains instrumental as a leader, an inspiration at the back and a dangerous distributor, Khune will have a chance to make the Goal 50 list once more.
In a 2012-2013 season wracked by disappointment, Thabo Matlaba was Orlando Pirates' outstanding performer. An attacking full-back, Matlaba does not lack confidence in his ability. 40 yard thunderbolts will make any team nervous, and Matlaba can deliver such unstoppable efforts for both club and country. The left-back also possesses deadly pace and enhances Pirates' wide play by delivering pin-point crosses on a consistent basis.
Not on par defensively with the likes of Tsepo Masilela, Matlaba still has much to learn in order to become the complete package. However, in the mould of Phillipe Lahm and Patrice Evra, Matlaba adds potency down the left-flank to any side.
Only 25, Pirates' and South Africa's full back has the chance to develop his already burgeoning talent. His stock will rise if he performs in Pirates' Caf Champions League exploits, while he should not ignore his potential to be a success at a European club.
Could he become a Goal 50 member? In terms of being a future South African star, there are no doubts swirling around Matlaba. His game will only improve, and with Gordon Igesund believing in his attacking style of play, a chance to shine in the international arena is available.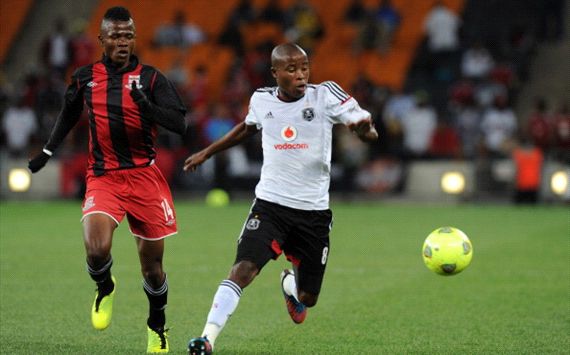 Steven Pienaar is no longer a Bafana Bafana player, but is still enjoying life in the battlegrounds of the English Premier League. An influential and dynamic midfielder for Everton, Schillo was a major contributor to the Toffee's good form last season, which saw them finish on the brink of a Champions League place. In 2012-2013, he played his most games since joining the Premier League, and provided more goals and assists than ever before, with seven assists and seven goals in 42 starts.
His energy levels waned as the campaign moved on and so too did his influence, but Pienaar is undoubtedly still the most talented South African player in Europe. He plays in one of the most competitive leagues in the world, and shows great poise and skill while doing so.
Pienaar will be judged upon his club form for the rest of his career, as he is no longer a full international. While he still maintains a sufficient level of intensity, the midfielder's legs will be tiring as he enters his 32nd year. A position in future Goal 50's seems unlikely for the Everton star, but he could surprise us, as he still possesses the creative spark, the ability to be a threat against any premier side.
Helsingborg's midfield gem, Mahlangu is largely considered to be one of the best players in the Allsvenskan. At the tender age of twenty-four, Mahlangu is already an established player in Sweden, making 71 appearances in the past three seasons. A consistent and lively performer, Mahlangu displayed his future importance to Bafana Bafana during the Africa Cup of Nations, with a jaw-dropping curling strike against Morocco. He has pace, vision and is a hard-working midfielder with an attacking mind-set, all ingredients which spell trouble for oppositions.
Definitely a future star for South Africa, Mahlangu has already been touted for greater European explorations. An injury set-back has halted a potential move to a more competitive league, but when fully-fit, Mahlangu will be targeted as a quality signing, with clubs from Turkey and England already making their interest known.
Once the midfielder makes a splash in a more recognised league, a Goal 50 spot is not an impossible achievement. His performances for Bafana Bafana will always be a large consideration, but from what we have already seen, Mahlangu still has a lot to offer international football.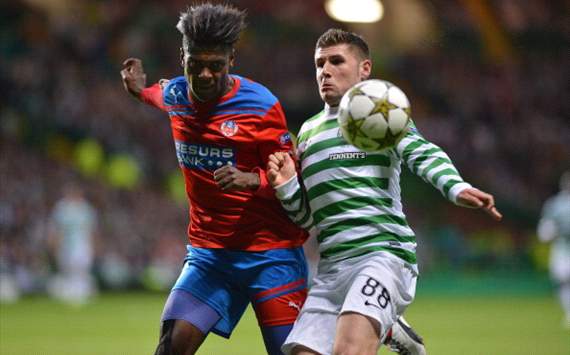 Tshabalala is still the current icon of South African football. Now playing at his peak, the Bafana Bafana and Kaizer Chiefs midfielder has adapted his game and can perform in a more central attacking role for both club and country. His form continues to fluctuate, but his influence remained vital to the cause of double-winning Kaizer Chiefs last season. On his day, the man nicknamed "Shabba" can tear open any defensive unit, or land a crushing blow from 40 yards out.
Many will feel it is too late for Tshabalala to take his career to new horizons. There was a time when the dread-locked midfielder looked destined for European football, but a move never materialised. Even though a place in Goal 50 is not subject to playing in European leagues, Tshabalala would have benefited from implementing his skills against tougher opposition week-in, week-out.
However, this season could change opinions and may be the most important season in Shabba's career. At 28, Tshabalala has the chance to lead the resurgence of Kaizer Chiefs into the Caf Champions League, a defence of their PSL title and an assault on the three cup competitions in South Africa. Backed by a talented squad, 2013-2014 could be the season Shabba evolves into a world-class footballer, by being a consistent threat and securing more trophies for AmaKhosi.