Initially, I felt Port Elizabeth's hosting of the Africa Cup of Nations could be seen as half-hearted, disappointing and drab in nature. A small audience at the Nelson Mandela Bay Stadium, a rather innocuous marketing campaign which was only launched a day before the tournament and a general sense of pessimism by locals had not helped create the right kind of atmosphere in the Eastern Cape city.
But my opinion has been altered as the tournament moves into its second round of games in the group stages. The crowds may not be sold-out, but the passion for African football is here. The small pockets of fans supporting their countries have made enough noise in the stadium to create a celebratory atmosphere. Cars can be seen adorned with their country's flags, as supporters have turned out in their numbers to support the four teams doing battle in Group B.
Port Elizabeth
Africa Cup of Nations results and fixtures


Jan 20



Ghana 2 -2 DR Congo
Mali 1-0 Niger


Jan 24



Ghana 1-0 Mali
DR Congo 0-0 Niger


Jan 27




Cape Verde vs Angola

Jan 28




Niger vs Ghana

Feb 2

Winner B vs Runner-up A


Jan 9




3rd/4th Play-off
With banners stating that the opening game in PE was "sold out" in many of the available outlets, I witnessed people being turned away from purchasing match day tickets for the opening double header.
Expecting to enter a tumultuous, packed to the rafters crowd in the Nelson Mandela Bay Stadium for the opening game, I could only be left disillusioned as half the stadium remained empty throughout both matches on match day one. It was called a "ticketing debacle" by the local newspaper and it truly was one.
But my initial sense of disappointment was replaced by a feeling of awe as I witnessed one of the most intriguing games of the tournament, a 2-2 draw between DR Congo and Ghana. A set of patriotic DR Congo fans kept the stadium bursting with energy as they witnessed their side come from the brink of defeat to securing a vital point in their opening game.
Seen as a great advertisement for African football by DR Congo's coach Claude le Roy the draw was a compelling and tense affair. The second match between Mali and Niger struggled to keep the crowd enthralled despite a late winner from Seydou Keita, but PE had witnessed the potential of African football, in 90 minutes of cut and thrust action.
The second round of games could not live up to what we had experienced on match day one, but the general sense of interest in the tournament has grown as the crowd swelled on match day two, where Ghana fought hard in a rather dreary 1-0 win over Mali and DR Congo played to yet another 0-0 draw against Niger.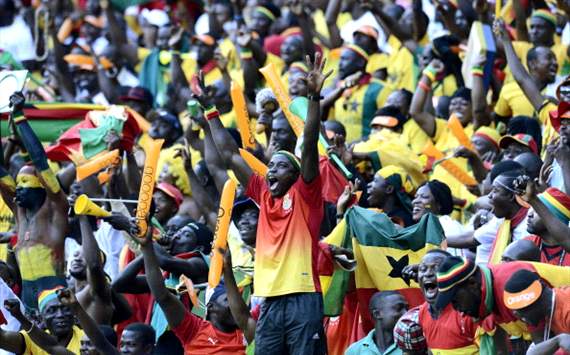 The results and the quality of football may have not sent the crowd into a fervour, but the audience were able to create an incredible atmosphere, as many danced around the stadium, took part in one of the longest Mexican waves I have ever seen and made a lot of noise with their choice of instrument, be it a vuvuzela or a drum.
During the second game the stadium turned itself into a cacophony of noise, where many people tried to inspire the players to perform better. Niger and DR Congo could not find the back of the net, but the crowd had enjoyed the match as they joined in with singing, creating a rolling drum effect with the empty seats in front of them and turning the dreary game into a spectacle, even though it really was not one at all.
Even though many locals in Port Elizabeth may not want to support the Africa Cup of Nations, I implore them to join in with the 40 000 fans who have witnessed both match days so far, as the tournament deserves more backing.
With a potential quarter final involving Bafana Bafana (if they finish second in Group A), Port Elizabeth's role could be even more vital in the national side's progress in the tournament.