My 2013 Africa Cup of Nations journey will be based in Port Elizabeth, known as South Africa's friendly and rather windy city. As Africa's showpiece edges closer, my anticipation grows as another chapter in my love affair with football is set to begin.
I am excited about this tournament as the Africa Cup of Nations is another opportunity for sport to be a nation builder in South Africa. It is another opportunity to bring together a nation which is polarised. The 2010 Fifa World Cup was merely the beginning of football acting as a source of unity and once more South Africans will join together in supporting Bafana Bafana and the rest of Africa.
Port Elizabeth
Africa Cup of Nations fixtures


Jan 20



Ghana vs DR Congo
Mali vs Niger


Jan 24



Ghana vs Mali
DR Congo vs Niger


Jan 27




Cape Verde vs Angola

Jan 28




Niger vs Ghana

Feb 2

Winner B vs Runner-up A


Jan 9




3rd/4th Play-off
The world's most popular game is a perfect source for unification. With millions of supporters in this country alone, football is an accessible and treasured sport in South Africa. All that is needed is a belief in Bafana Bafana's ability to succeed. I was only 7 years old when we lifted our first and only Africa Cup of Nations trophy, but I have never stopped supporting the side despite the shadow of negativity surrounding the team.
Following Bafana Bafana's preparations for the tournament has been at times frustrating due to the team's profligacy in front of goal, which has meant the nation may not fully believe that Gordon Igesund's men have what it takes to conquer Africa once more.
However, we have a side which is motivated to succeed. We have a coach who understands South African football and has unparalleled knowledge of local conditions. Every member of the team will want to prove the critics wrong and display their true potential and skill. They showed character during their draw against a powerful Algerian outfit and this commitment to the cause should be the cornerstone behind their success. I trust in the side to make the whole of South Africa proud during this tournament and it is an unshakeable trust.
This is my belief in Bafana Bafana and it is a belief which has been tested to its very core during all the disappointments of recent years. But it is still there and I will never give up on the national team.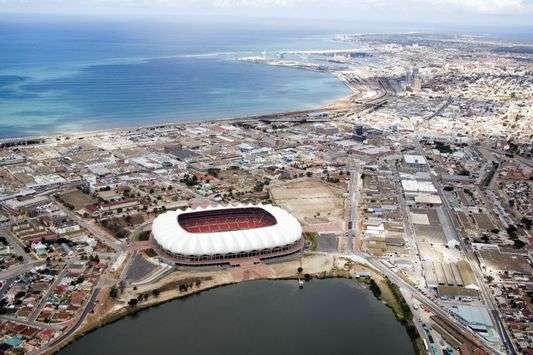 Now that my passionate response to South African football is over, let's focus on Port Elizabeth and exactly what the city will have to offer Africa Cup of Nations fans.
Port Elizabeth will host teams in Group B of the tournament, with giants Ghana and Mali set to face-off at Nelson Mandela Bay Stadium for top spot. Niger and DR Congo round off the group, with Claude le Roy's DR Congo side aiming to stake a claim for progression to the next round of the tournament, which means we should be in for a tough battle in Group B.
One group A game will be played in the city, with Cape Verde Islands set to face Angola in the windy city. PE will also host a quarter-final and the third-fourth playoff during the tournament. If South Africa finish second in their group (quite a likely event) the city will play host to the side during the quarter-final stage, which should see the stadium packed to the rafters in support of the national team.
The city has been struggling to sell tickets, with a reported 1 in 10 tickets having been sold so far according the Dispatch. This is a surprising stat, as some of Africa's finest footballers will be on show in the form of Ghana's national side. Mali also boast some exciting talent in their ranks, which means the PE public will be in store for quality and competitive football throughout the group stages of the tournament.
I will be updating this diary as I venture further into my Africa Cup of Nations journey, where I will let everyone know about the vibe in Port Elizabeth and exactly what the city will be offering supporters during the tournament. Stay tuned to Goal.com South Africa.