Even if Bafana Bafana fail to progress through to the second round of the 2013 Africa Cup of Nations, we need to keep faith in our coach Gordon Igesund. I have no doubt we will progress. This hypothetical, worst case scenario, illustrates the point that South African football's long term plan is more important than short term success in the Afcon.
Faith in Igesund should be undeniable because he is the best coach we've got, and the best coach we've ever had in South African PSL history. I started covering the PSL when Igesund was the coach at Manning Rangers in Durban. What an incredible achievement it was for him to win the PSL with the Chatsworth club where he was adored! When you look at how Manning Rangers went downhill after his departure (soon relegated) then you can appreciate what a class act Igesund was.
To prove that wasn't a fluke, Gordon repeated this amazing achievement by winning the PSL with another unfancied club, this time across the country in Cape Town with Santos, who also went downhill after his departure (also eventually relegated). Igesund is our version of the nomadic trophy hunter Jose Mourinho.
Proving that he could handle the pressure of the countries biggest clubs, Igesund also won titles at Orlando Pirates and Mamelodi Sundowns. Then he finished runner up with Swallows just before getting the nod for Bafana. We wanted him to get the job years ago, but for one reason or another, we chose foreigners or relatively less successful local coaches. In the meantime he's built his CV quietly.
Now that Gordon is finally here we need to give him proper time in charge of the national team. We can't expect him to perform miracles in the Afcon. Yes, Clive Barker won the the 1996 Afcon the last time the tournament was played on home soil, but South African football on the pitch has regressed in the last few years. It will take a few years to rebuild the team. Not a few months. Now that we got the right man at the helm, we need to realistically give him a proper, long term goal.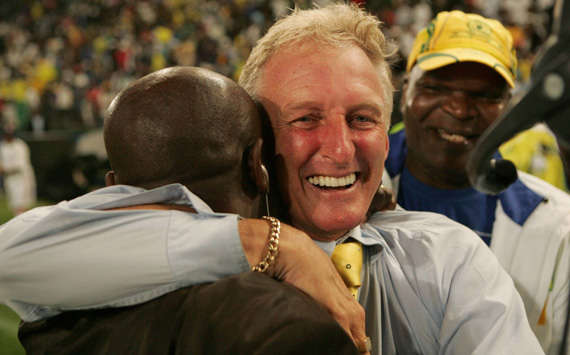 Two months ago Barker came out in various press conferences and interviews, expressing his belief that Bafana can win the Afcon again. In recent Goal.com South Africa interviews, the likes of Mark Fish have stated that Barker's motivation and sense of belief gave them the encouragement to go for the Cup. But, I think this time we shouldn't put unneccessary pressure on the boys. Now the opposition is much tougher than it was in Barker's day.
Igesund only started to train the players to his style of soccer in the last few weeks. He's spent most of this time experimenting with player selection, scouting who he can choose in his squad and first team. Ideally, a coach should then have a few months for this first team to gel together and eventually accomplish that vision. I personally believe that the Afcon can be used as preparation for a more important challenge, 2014 World Cup qualification.
There will always be critics who want Rome to be built in one day, and expect us to play like Brazil in pre-tournament, training friendlies. Remember, the last time a host nation won a major event was France in the 1998 World Cup, and even then their coach Aime Jacquet's head was called for.
Now, many might believe the Afcon is more important than World Cup qualifiers, particularly since the tournament is hosted here in South Africa. I accept and understand the meaning of the Nations Cup itself. However, there's no use going far with a false sense of optimism if we then go backwards thereafter. It would have been a different story if Igesund rightly got the job after the 2010 Fifa World Cup. Now, coming in late, he has an uphill task to take us to Brazil. Nevertheless, it is possible, and if he achieves this then Bafana's next generation will have the experience of 2014 to build on.
I would hope that Igesund is still here even if we miss out on Brazil, because I have faith that Gordon can rebuild the team and it's about 18 months down the line that I can see us reaping the fruits. If we play our cards right, by then we can start to challenge Africa's best teams without fooling ourselves.
As for the 2013 Afcon title, don't get me wrong, this is going to be an exciting tournament to watch. We have Goal.com writers (local and international) all over the country and around Africa, covering the event. I can't wait to see Bafana punch above our weight. On paper Ivory Coast, Ghana and Nigeria look the strongest, but Zambia proved last year (and Greece in Euro 2004) that if you play with your heart and give 100 percent then anything is possible.