Orlando Pirates, in action against AC Leopards on Saturday, face a challenging Caf Champions League group campaign; a campaign which is vital for Roger de Sa. Pirates seek redemption after a lowly 2012/2013 season ended trophy-less, but their redemption will not be easy to attain.
Six trophies in two seasons is a steep summit to reach. Orlando Pirates were supreme leaders of South African football for two campaigns, achieving glory many can only dream of.
However, in 2012/2013, the team which had dominated PSL football for two years stumbled. Ending the season without a trophy, and succumbing to one of their most embarrassing defeats was not expected by the thousands of demanding Buccanners faithful. Maluti FET College summed up Pirates' unsuccessful nine months by humbling their illustrious opponents in the Nedbank Cup.
Injury-ravaged and lacking confidence, Pirates finished in a paltry third position on the PSL standings. Roger de Sa's head was called for on more than one occasion. But there was one promise the coach had not broken. Pirates are still mounting a challenge in the Caf Champions League.
PIRATES' ROAD TO REDEMPTION

AC Leopards



Congolese champions and Caf Confederations Cup winners. Current leaders of Ligue 1 in the Congo.

Home: 20 August
Away: 14 September
Al Ahly SC



Defending Caf Champions League winners and seven-time champions of the competition.

Home: 21 September
Away: 3 August

Zamalek SC



Five-time winners of the Caf Champions league and current leaders of Group 2 in the EPL.

Home: 17 August
Away: 31 August
By overcoming insurmountable obstacles in DR Congo, Pirates edged past African giants TP Mazembe to book a place in the next round. De Sa pulled a rabbit out of the hat by rousing his tired troops and gaining entrance into the group stages of the competition. On Saturday, Pirates will play their first Caf Champions League group match for seven years, and their mission will only become tougher as the tournament continues.
Their first task – defeat Congolese team AC Leopards in Soweto and earn a compulsory three points. But the Les Fauves du Niari will have other ideas. Winners of the Caf Confederations Cup last season, AC Leopards are a rising force in African football. The outfit has dominated their local football scene, winning the league and cup double in 2012.
They currently top the Congolese Ligue 1 with 39 points and are in the middle of their 2013 season. Pirates will fear being undercooked for the match at the Orlando Stadium, as they have only contested friendlies since their last PSL game in May.
Leopards are fit and dangerous, led by striker Rudy Bhebey Ndey and possessing a two-metre tall giant - Arouna Drame from Mali. The three points are certainly not guaranteed for Roger de Sa and he will have to muster the same spirit in his side which inspired them to defeat TP Mazembe.
Pirates' next opponents need no introduction. In the year 2000 Al Ahly were named "African Club of the Century" by Caf, and their star has continued to shine during the 21st century.
Defending champions and seven-time winners of the continent's Champions League, Al Ahly are favourites to take the crown once more in 2013. Mohamed Youssef's side will test Pirates' to the core of their ability and are currently dominating group one of the Egyptian Premier League,
The Buccaneers will need to watch out for the striking combination of Ahmed Abdul Zaher and Al Sayed Hamdy, while 36-year-old Mohamed Bakarat is still an influential attacking midfielder. Even though Al Ahly may not play their matches in Cairo due to political violence in the capital, they will still be favourites to top Group A.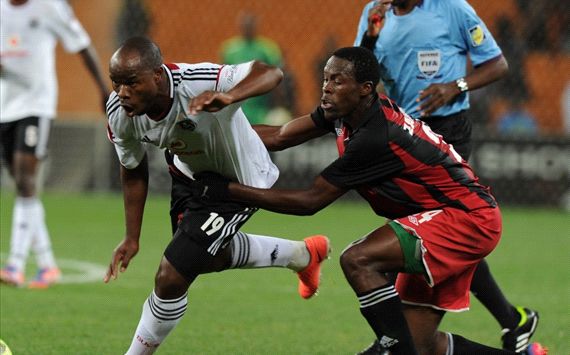 The competition does not get any easier for Pirates. Zamalek is next on the menu for the Buccaneers and is the second Egyptian club they will face in the group stages.
Five-time Caf Champions league winners, Zamalek have a powerful side which is also performing well. The team have been free-scoring this season in the EPL, notching up 27 goals. 21-year-old Mohamed Ibrahim poses a serious threat in the middle of the park for Pirates, while Burkina Faso international Abdoulaye Cisse is Zamalek's main attacking lynchpin.
Taking this into account, Roger de Sa's quest for continental glory will require a monumental effort from his players. A good start against AC Leopards is essential, but a lack of professional football could derail their chances on Saturday night.
The suspension of the Egyptian Premier League may work in their favour when the competition moves forward, as Al Ahly and Zamalek will be starved of consistent game-time. However, Pirates are certainly the group's underdogs, and may carry the tag throughout their Caf Champions League efforts.