On the 148th anniversary of his birth, Goal remembers and celebrates the life and career of the man who pioneered the cause for black footballers across the Atlantic
FEATURE
By Sammie Frimpong
Today, dark-skinned/black men account for a huge fraction of players registered for the current season of the English Premier League, and the value of most of them to their clubs cannot be overstated.
More than a century before the likes of Ashley Cole and Yaya Toure laced up for some of England's biggest clubs and got signed to contracts worth six-figure wages and a few more zeros in transfer fees, though, a largely forgotten 'ancestor' of theirs made considerably selfless sacrifices that quite unwittingly laid the foundations which have made it possible for these latter-day superstars to access the privileges and luxuries they enjoy now: the man Arthur Wharton.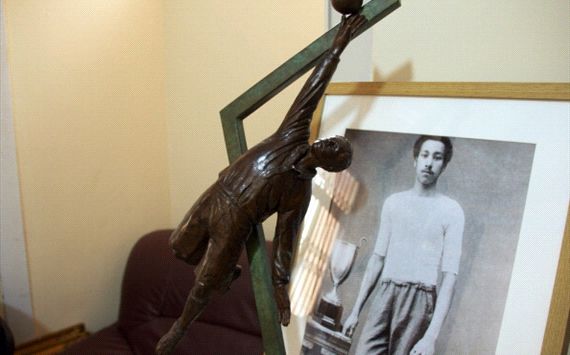 A statue and portrait of Arthur Wharton are pictured at the Ghana FA
HIS LIFE
Wharton was born on this day in 1865 in Jamestown, a suburb of Accra in the then Gold Coast, to a Grenadian-Scot Methodist missionary/minister father and a mother who was a royal of Ghana's Fanti tribe. His background and upbringing, clearly, was privileged. Raised according to the Christian way, it was hardly surprising then that Wharton had his heart set on pursuing his father's craft early on, and was thus sent to Cleveland College in England's north-east to be trained by age 19 as a clergyman.
In school, however, young Wharton's priorities took a shift that would change the course of the remainder of his life. While it is not formally known if he grew any less religious or that his academic work suffered as a consequence, Wharton apparently developed new interests, specifically in the sporting arena. Wharton, youthful and enthusiastic as he was, excelled across a broad range of disciplines - from cycling, through athletics and cricket, to football - and apparently made quite a name for himself as a 'gentleman amateur'. His big break came in 1886 when he broke the 100-yard dash record at Chelsea's Stamford Bridge as a 21-year-old after running that distance in 10 seconds during the annual Amateur Athletes Association games, thus becoming the fastest man in the world for a while.
That singular feat proved a milestone in his life, ultimately forcing him to quit his theological studies to focus on a career in sports. Up until then, he had not yet decided on a particular discipline to which he would commit himself. He joined Darlington Football Club, where the coaches tried to put his pace to use on the wings but soon realised Wharton's abilities would be better utilised in goal. Mind, those were the
early years of football when goalkeeping equipment were particularly crude and keepers were required to be more brave than skilled to succeed. And while Wharton earned many plaudits for excelling in this regard, he also attained for himself a reputation of possessing some of the eccentricity that characterises most goalkeepers, pulling off certain unnecessary and avoidable stunts while guarding the posts. Even so, he received acclaim and, in season 1885-86, got selected for the Newcastle and District team, rated among the best outfits at the time. A season later, he got signed up for Preston North End - by far the finest English football team of that era, popularly known as 'The Invincibles' - while still turning out for Darlington. A year before the Lilywhites won their famous 'Double', however, Wharton left to concentrate on full-time running.
| | |
| --- | --- |
| Wharton's memory is being preserved and, several years after his death, he is receiving the wholly merited recognition circumstances contrived to rob him of during his lifetime | |
Only a year later, though, the yet indecisive young man returned to his first love and joined Sheffield United for a season - where, while understudying legendary English goalkeeper Bill 'Fatty' Foulke, a start against Sunderland made him officially the first black player to feature in the Football League First Division - then left to spend six years with Rotherham.
Yet another sequence of transfers saw him enjoy spells with Stalybridge and Ashton before playing out his final days with Stockport in the lower divisions. In 1902, he retired, bringing to an unceremonious end a storied career, without ever winning a major honour. Recall, though, that Wharton had earlier sacrificed the promising preacher man's life that would have assured him of a more comfortable existence and a secure pension and had instead spent most of his footballing years shuffling between the sport and running pubs, all in a bid to earn a decent living. Hence, for the rest of his life, Wharton found proper employment difficult to obtain, eventually settling for a job as a haulage hand at the Yorkshire Main Colliery in Edlington, Doncaster, serving there from 1915 to 1918, and later joining the Home Guard of World War I. To compound things, he resorted to heavy drinking, likely as an outlet for drowning his sorrows and frustrations at a sport that returned little change for all he gave it.
Alas, in 1930, Wharton died, penniless and miserable, in the Springwell Sanitaurium, Balby, and was buried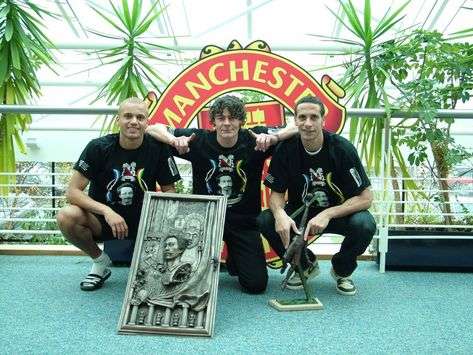 in a grave which was not even dignified with a proper marking at the time; a sad, hardly fitting end for someone so accomplished and well-born. While he lived, Wharton's determination helped him break several records and barriers and opened many a door to him. The one opportunity that somehow remained shut to him was that of the then English national side, in an era that football - and the FA - was still struggling to wean itself of petty prejudices; nearly half-a-decade would pass after Wharton's death before a black player, Viv Anderson, kitted up and played in English colours.
RECOGNITION
In the course of the last few years, however, Wharton's achievements have come to the fore and gained much recognition. For starters, his grave was given a deserved headstone by an anti-racism advocacy group in 1997. Six years later, he was inducted into the prestigious English Football Hall of Fame and his picture included in an exhibition of British sports heroes at the National Portrait Gallery. Ghanaian football fans might also recall that prior to kick-off of the Black Stars' friendly with England's Three Lions at Wembley in March 2011, a pitch side presentation was made by FA officials and Wharton's relations in honour of the man.
Finally, earlier this year, a statuette of Wharton was presented to Sepp Blatter to be permanently displayed on the FIFA headquarters premises. Through these measures and more, Wharton's memory is being preserved and, several years after his death, he is receiving the wholly merited recognition circumstances contrived to rob him of during his lifetime.
LEGACY
On what would have been his 148th birthday, perhaps we would all do well to pay thorough attention to Wharton's memories and what they mean for football, especially now the modern game frustratingly contends with, among other things, the plague of discrimination.
Follow Sammie Frimpong on

Goal Ghana has its own

and

account, so for all the latest news and features on Ghana football follow us by clicking on the above links