I am very disappointed that one of Egypt or Ghana won't progress to Brazil 2014. In my opinion the Black Stars of Ghana boast the strongest squad depth in Africa. Yes, we enjoy watching Ivory Coast's star players in certain positions, but Ghana is arrayed with powerful players and more balanced strength all over the pitch. It would be a tragedy if the Black Stars didn't represent Africa in the World Cup, because we want our best nations to make our continent proud.
Under American coach Bob Bradley, Egypt outstandingly won all their group stage matches. Over the years they consistently dominated the Africa Cup of Nations and the Caf Champions League, so it's absurd to accept that the Pharaohs haven't qualified for a World Cup since 1990.
Italy 1990 was the first World Cup I watched and I'm going to make this point to compare Africa and Europe later. Egypt were in a tough group with England, Holland and Ireland. They performed admirably well to draw against the reigning European Champions Holland and then Ireland. However a narrow 1-0 defeat against eventual semi-finalist England knocked them out in the group stage.
Since then the Pharaohs have gone on to win four Afcon titles. The poor World Cup qualifying formats/seeding system has failed Egypt and robbed the football planet of watching the best of Africa. It's not just the
smaller groups and playoff system I criticised in my other editorial here
. Even with the larger groups in the past, Egypt were once placed together with Ivory Coast and Cameroon. Can you accept that two of those great African footballing nations couldn't progress to a World Cup?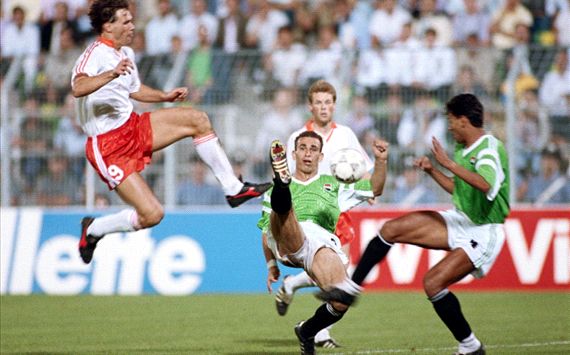 Ultimately, I feel sorry for Caf because it's not easy to create an ideal system when it's also Fifa's fault for only allowing five African teams to play in the World Cup. In my opinion Africa should have at least six automatic spots, and one more team should get into a playoff with a European nation. That means potentially giving Africa two of Europe's spots. I believe that our respective sixth and seventh best teams are superior in quality to some of the teams who usually get through the European playoffs, such as Slovenia and Greece in 2010. If you asked those teams to come to Lagos or Cairo for one leg, you'd witness Africa's quality.
Yes, as a whole Africa disappointed in South Africa 2010, but if you just look at the numbers: if we hypothetically had 13 spots (like Europe) then obviously more teams would get through to the last 16 round. They would even get to play against each other and move further forward. If Europe had just five spots then less of their teams would progress to Round 2. You can't assume all five would, because even 2006 World Cup runners up, France were so poor in South Africa. A key point is that the more teams Fifa allows you, the faster your countries develop from the exposure of the World Cup. Europe benefited from this advantage for decades.
For 2014 Nigeria, Ivory Coast, Ghana and Egypt deserve qualification based on their recent consistent results. (Yes, Egypt were thrashed by Ghana but qualification is based on consistency, not one game) Our next two or three spots could hypothetically be between Algeria (the next best on form), Cameroon, Ethiopia or 2012 Afcon winners Zambia. Chipolopolo were unlucky to get Ghana in the group stage, once again underlining the fault in the seedings and format. For Brazil let's not rule out Senegal, Burkina Faso and Tunisia yet.
It's obvious Europe boasts the strongest teams so they deserve more spots, but I don't think it's asking too much for our administrators to go back to Fifa and demand one or two qualifying places for future World Cups. That would reduce Europe to at least 11 teams, and if Uefa wants their quota back, then why not face Africa in playoffs to challenge us for it? I think they're afraid of that.
Follow Goal South Africa editor Ignat Manjoo on twitter
here.