ANALYSIS
By Ed Dove
Few players have enjoyed a trajectory as sharp as Victor Moses over the last 12 months. The forward has gone from being a raw prospect at Wigan to one of Africa's finest attackers, a continental champion and an effective component of Chelsea's star-studded squad.
This article looks back over the year that was for Moses and chronicles some of the key moments in his development.
Last summer I publically doubted whether a move to West London would be the best step for Wigan's precocious youngster.
Since moving to the North West from Crystal Palace, Moses was maturing nicely. His game was still raw—with the occasional moment of poor decision-making undermining his physical prowess. He had begun to terrorise defences with his twinkling toes and genuinely lightning pace, but too often moves would fall apart when the youngster ran out of ideas.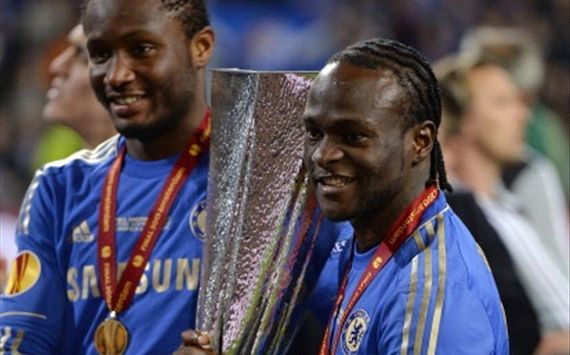 I agreed with Wigan chairman Dave Whelan, who suggested that another year of development at the DW Stadium would be needed for the Nigerian to complete his transformation from threatening frontman to elite Premier League forward.
Perhaps the entrepreneur's heart was in the right place. Certainly he wanted to keep the finest players at his club for as long as possible, but a litany of youngsters seemingly more talented than Moses had moved to Chelsea too young, too soon, and faded into obscurity.
The tale of Gael Kakuta—the one-time wonderkid, hand-picked by Drogba as his protégé, poached from Lens at great expense, now wallowing in footballing mediocrity—proved an archetypal narrative of a young star who was picked before being ripe enough to prosper.
Chelsea have form in this department. A year ago Romelu Lukaku had been forgotten in West London, Shaun Wright-Phillips saw his career stutter and stall after arriving at Stamford Bridge, and somewhere, not too far away, a withered Ben Sahar is dreaming of what might have been.
Was the exciting Moses to become another name on the list of duds?
Quickly, it became apparent that the youngster was primed to forge a place for himself with the Blues. Over the season he has demonstrated a propensity for influencing Chelsea's biggest encounters, and this has stood him in good stead among the club's mega stars.
In both of the games against Basel in the Europa League semi-final the forward was on fire, scoring in each encounter. Against Rubin Kazan he managed the same feat, bagging goals in London and in Russia. Six Europa League fixtures bore four goals.
Moses also managed game-changing performances against Shakhtar Donetsk and Manchester United in the Champions League and the Capital One Cup, respectively.
He found the net late on to win the game against the Ukrainians before turning in a Man of the Match display against Chelsea's domestic rivals.
For both club and country Moses has shown his aptitude to prosper on the biggest stage and make his influence known in the grandest stages of competition. While at Chelsea he is the devastating output for the club's collection of creative players, with the national side there is more onus upon his shoulders to create for those around him.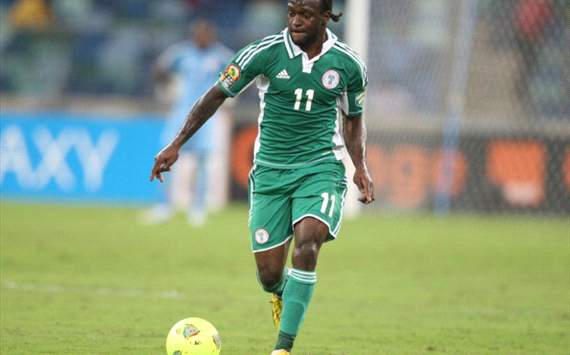 Moses vs. Mali: No Contest
Despite only making his international debut with Nigeria last year, Moses quickly emerged as one of Keshi's key men. Players who can make a genuine impact, who are truly capable of altering an encounter in a split second, are at a premium and the former England youth player's ability to do this quickly took him into the hearts of Nigerian fans.
During the Super Eagles' triumphant run to the African title in early 2013, Moses not only demonstrated his prowess in front of goal, but also played architect, showing his creative flair in some of the side's key encounters.
He didn't wilt against the superstars of Cote d'Ivoire, before turning on the style against Mali in the Super Eagles' semi-final.
It was a performance that verged on the mesmeric. Moses made goals for the likes of Emmanuel Emenike and Ideye Brown, acting as the side's creator, forging chances and making space for his teammates. It was a mature and composed performance that had Nigeria fans salivating.
The tournament was a true coming-of-age for the youngster and provided an explosive opening to his international career.
His absence was keenly felt during the Super Eagles' toothless summer of 2013. What a difference Moses (and his striking partner Emenike) could have made during the Confederations Cup and the recent World Cup Qualifiers.
It will be fascinating to see how Moses develops into the future. In a recent poll over 78% of those questioned indicated that the player could go on to become one of the Premier League's elite stars.
Fans will be able to witness his searing pace and direct style week in, week out for Chelsea alongside the vision and creativity of Eden Hazard, Oscar and Juan Mata; during his first stint at the club, incoming boss Jose Mourinho had his own versatile West African forward in Salomon Kalou. While that experiment didn't quite work out, it will be fascinating to see how Moses's trajectory continues under the Special One.
For Nigerian fans, the prospect of Moses leading the Super Eagles to next summer's World Cup is one to be savoured. His delicious footwork, deft wing-play and precision deliveries were a joy to behold in the African arena, who knows how iconic they could prove to be at Brazil 2014.
Chelsea and Nigeria fans have been privileged to witness the meteoric rise and electric unfurling of one of the continent's finest prospects. If Mourinho likes what he sees, and Moses's development continues at this pace, then Super Eagles fans may be adding another name to their Pantheon of Greats.