It has been 365 days since the country's greatest ever goal scorer died. In this article, we pay tribute to his memory
TRIBUTE
By Shina Oludare
Whenever Rasheed Yekini stepped onto the pitch, you were confident that victory was almost certain for the Super Eagles as he spear-headed Nigeria's attack line and was defenders' nightmare, tormenting them with his blistering skills and power.
Blessed with the height of a giant, the fierceness of a rhinoceros and the agility of a lion, he tore opponents' goal area apart with his blistering skills as goalkeepers would scamper at the sight of his foot which packed a missile. He not only scored goals whenever he liked, he scored them aplenty.
This towering goal machine was ever ready to move Nigeria football ahead as he returned to play in the Nigeria Premier league before finally hanging his soccer boots. A year after he was committed to Mother Earth, one cannot help but reel out the legacy of Nigeria's legendary goal machine as the football world remembers him.
Yekini is famously remembered for his iconic goal celebration after scoring Nigeria's first-ever World Cup goal, running into the goal post, grabbing the net, and shaking it endlessly while screaming to the high heavens.
"His goal against Bulgaria was my favorite. It was Nigeria's first game at the World Cup. After getting the historic goal, he ran into the goal post, shook the net and screamed in great excitement. One couldn't really get what he was saying."
-Kunle Solaja (Nigeria Football historian)
After his career at UNTL Kaduna in 1981, he made a move to Shooting Stars where he caught the attention of then big money spenders Abiola Babes. After three successful seasons with the Abeokuta team, he joined Africa Sports of Cote D'Ivoire, a move that attracted foreign scouts due to his goal scoring prowess.
Three years later, he moved to Europe, where he became an instant hit with Vitoria Setubal in Portugal. There, he experienced his most memorable years, no doubt he was the Portuguese league top scorer in his debut season. At Setubal, he scored an impressive 90 goals in 108 appearances.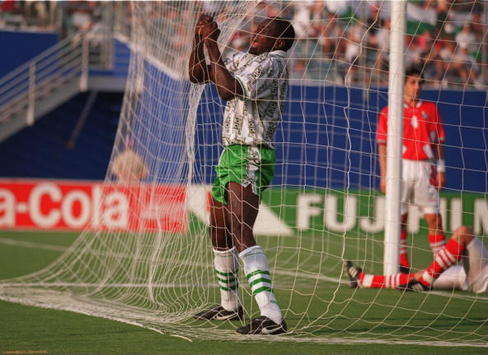 In 1994, Yekini moved to Greece where he played for Olympiacos but did not enjoy a successful run, quitting after four matches and scoring two goals because he couldn't get along with teammates. His career never really got back on track, not even upon a return to his former club Setubal, which happened after another unassuming spell; in the Spanish Liga side Sporting Gijon.
"He is a true patriot, always ready to play for Nigeria and never joked with national team assignments. Always giving his best was his watch word. This is a legeacy he has set for upcoming strikers to always have a positive mind-set and be dedicated. But sincerely, his legacies will be a tough task to emulate."
-Ike Shorunmu (Former teammate in the Super Eagles)
He moved to FC Zurich in 1997 where he was capped 28 times and got 14 goals to his credit. He had a short stint with Club Athletique Bizertin and Al-Shabab Riyadh of Saudi Arabia before rejoining Africa Sports of Cote d'Ivoire.
Rashidi's life was totally and completely wrapped around football. All he wanted to do was play all day long. He loved the round leather game so much. The training ground was his world. On it he came alive and shone like a million stars.
"He was very influential to the team and easy going. Anytime he [wore] the jersey, he loved to be a winner. We really cherish him. Also, he [was] a very funny player. At training ground, he would crack lots of jokes. Whenever you need crucial goals, you can bank on him. He [was] simply the best,"
-Toyin Ayinla (Former teammate at Abiola Babes)
After his illustrious football career in Europe, he never looked tired returning home to play for Julius Berger FC, and at age 42 bagged a hat trick for newly promoted side Gateway of Abeokuta after making a brief turn around on his retirement in 2005. It is worthy to know that with his presence in the Nigerian Premier League, the league bounced back to life as fans trooped out in their thousands to watch the gangling forward play.
He was a pioneer for Nigerian football in many ways and his time in Europe opened doors for many players that followed behind him. He was a role model for many even to his peers.
Yekini made his debut for Nigeria in 1984 and he would represent Nigeria at the Seoul '88 Olympic Games football event four years later scoring Nigeria's only goal in the tournament.
At the age of 31, Yekini was at his peak. He almost single-handled won Nigeria her second Africa Cup of Nations title in Tunisia, scooping in five goals to emerge top scorer. His best goal of that tournament was against Zaire, a volley that left the goalkeeper without any chance after a pass from Sunday Oliseh.
"Yekini was a very prolific striker, he was a striker you can be very sure of that he would make good use of his chances. At least in four attempts, he must convert three. Very jovial, unassuming, kind and always respectful to his coaches. Up till now, I don't think we have discovered any attacker in his mould. He has served his country very well, becoming the leading goalscorer of all time. Won many laurels home and abroad. He is a perfect role model. I think he has done very well for himself and country."
-Christian Chukwu (Ex Super Eagles Head Coach)
His goals also contributed to Nigeria's qualification for her first ever World Cup. Between 1993 and 1994, he scored 34 goals in 32 matches, an achievement that won him the African Footballer of the Year title , becoming the first Nigerian to be bestowed with such honor.
His record-breaking antics will go down in history at a time when Nigeria enjoyed perhaps their best generation thus far. Its note worthy that in his 14 years wearing the National team colours, he scored 38 goals in 57 appearances.
He was never a controversial person, kept camp rules, coaches' favourite, and never asked from Nigeria except one thing. Before departure to USA for the 1994 Fifa World Cup, he made one request which many up till date do not keep. He asked that his name be spelt RASHEED and not RASHIDI. As we continue to talk and write about him, can we please grant him that one request and refer to him as RASHEED and not RASHIDI?
We can only hope that his gentle soul continue to rest in perfect peace. Rest on "Goals Father."