If you live outside Malawi, chances are that you probably have never heard about Eddington Ng'onamo.
But the Malawi national senior football team, the Flames interim coach is an interesting character who is never afraid of breaking new sports frontiers.
While the trend in Africa football is that of exporting the finest footballers to Europe and, in return, welcoming to the continent every Jim and Jack masquerading as coaches, Ng'onamo, 54, has been quietly reversing such a trend.
Since 2007, the holder of several football coaching diplomas and Uefa B badges, went to Denmark to coach lower league teams such as third division's B 93 and AIK 65 Stroby. He has coached 12 Danish clubs to date.
The man, who is also a sports administration lecturer for the Malawi Olympic Committee, has been conducting coaching clinics and Danish coaching clubs, courtesy of his former Flames' Danish boss, Kim Splidsboel.
"He brings to European football a new coaching dimension full of rhythm, combining dancing with coaching. He is a huge hit with players. I believe European football can learn from the flair of African football," Splidsboel says highly about Ng'onamo.
The Malawian's relationship with Splidsboel dates back to between 2000 and 2002 when he was an assistant to the Dane, then coaching the Flames. The duo steered Malawi to position 95 on the Fifa rankings in one of the months and earning them their first ever Cosafa Cup final berth.
Upon his return to Denmark, Splidsboel was never to forget his former right hand man who he recommended to Danish teams.
Stroby chairman Bianna Monke justified the rationale of hiring a coach from Malawi, the backwater of African football to Europe where coaching is advanced.
"He is also a good trainer, a highly-qualified one, so we do not necessarily look at where one is coming from, but abilities," Monke told The Daily Times some five years ago on his visit to Malawi "just to see where Eddie comes from".
The Stroby boss noted that they would love to have Ng'onamo full-time in Denmark, but it was impossible due to financial limitations, since he is hired as an expatriate.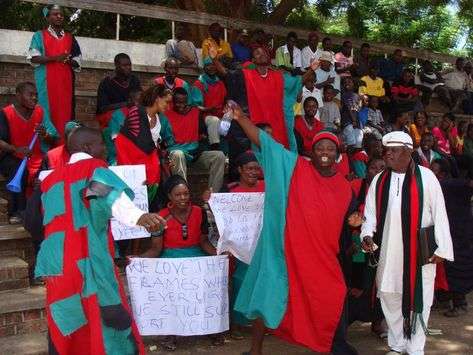 Ng'onamo, a high school teacher and qualified coach in almost all sports disciplines, sponsors his air tickets costing over $900 to Denmark, he says, to "teach them and learn from them."
"The clubs in Denmark pay for all my expenses, including my allowances. My ultimate aim is to attain the Pro Licence and coach a top European team. I have already made a name there," said the father of six.
Not that he is being over ambitious but the former Football Association of Malawi technical director dreams big, is never afraid of challenges and usually gets what he wants.
In Malawi, he has won hearts after reviving Malawi football giant, Big Bullets from relegation candidates to Presidential Cup winners, for the first time in eight years and Super League runners up, having missed the league title on an inferior goal aggregate to Silver Strikers.
Turning around the fortunes of a Big Bullets team he found placed 11th in the 15-member Malawi Super League last season is a challenge few believed he could achieve. Not that he is a novice in the game but Ng'onamo spent the better part of his career at smaller Malawi clubs.
The qualified Caf coaches' instructors has been coaching for over 20 years with over five top league clubs, including Mighty Wanderers who he guided to the FAM Cup in 2008 in the caretaker role before flying to Denmark for a coaching stint.
In-between his busy schedules as a teacher at an elite Blantyre high school Kalibu and Bullets coach, Ng'onamo has also been widening his knowledge, attending an athletics' coaching course in Kenya recently.
"He has promised to groom athletes. He is already involved in coaching athletics at school level and he has attained his athletics' coaching badges in the mid 1990s, hence we did not hesitate to recommend him for the course," Athletics Association of Malawi general secretary Frank Chitembeya said recently.
At Bullets, midfielder James Chilapondwa attributes Ng'onamo's success to his cool demeanour, noting that "when the chips are down during a game, you only need to look at him seated on the bench to get an assurance that you can come back."
Bullets chairman Malinda Chinyama had tried several Bullets-bred legendary coaches with little success, until his management gambled by bringing the outsider (Ng'onamo) last season. And it worked.
"He is a gentleman who never sulks like players," Chinyama notes about Ng'onamo who has served as regional sports development officer since the late 1980s.
Ng'onamo has succeeded where others have failed. But there can be no arguing that his recent appointment as the Flames caretaker coach, deputised by Ernest Mtawali and Patrick Mabedi, is perhaps the toughest challenge.
His first assignment is an away game in Namibia in the 2014 World Cup qualifiers on March 24.