Godfrey Chitalu, the former Zambian player and coach, scored 107 goals in one season, a tally which has never been recognised by Fifa
Lionel Messi overcame Gerd Muller's goal tally of 85 strikes in a calendar year, with two goals against Real Betis. Messi's feat has been showered with praise but does the Argentinian maestro truly hold the record? Zambia's FA does not think so and is submitting evidence to Fifa to prove that Godfrey Chitalu's 107 goals for Kabwe Warriors FC in 1972 should be recognised as the true record.
Chitalu's exploits were achieved in the same year as Gerd Muller's 85-goal tally, but the five-time Zambian footballer of the year's 107 goals are not found in the Fifa record books.
According to ZambianWatchDog.org a Zambian FA spokesperson said, "We have this record, which has been recorded in Zambian football, but unfortunately it has not been recorded in world football. Even as the world has been looking at Lionel Messi's record, breaking Gerd Muller's, the debate and discussion back here has been why Godfrey's goals are not being recognised."
Zambia's FA is seeking to prove this record by securing evidence of Chitalu's goals, including where and when he netted each and every one of his 107 strikes. The archives are being perused as you read this and a report is being compiled. Zambia's FA is hoping to finally convince the Confederation of African Football and Fifa that Chitalu should be credited for his incredible achievement.
Messi would need to score 21 goals in his final three outings this year in order to overcome Chitalu's tally, which seems impossible even for Barcelona's genius. Following this revelation, the arguments are beginning to pour in as many people feel that Chitalu's goals were scored in an inferior league and should not be compared to Messi's record.
This may be true, as the Zambian league would not have been as competitive as La Liga in 2012, but Chitalu's feat cannot simply be ignored, due to the player's influence in Zambian football. Like Messi, Chitalu was an international footballer and his goals were scored on both the club and international stage.
Chitalu has always been deemed as one of Zambia's greatest ever footballers and was awarded an Achievement Recognition Award by Fifa in 1982 after he decided to retire. In 1968 it is reported that Chitalu scored 81 goals for Kitwe United, which was a warm-up for his outstanding 107 goal tally four years later.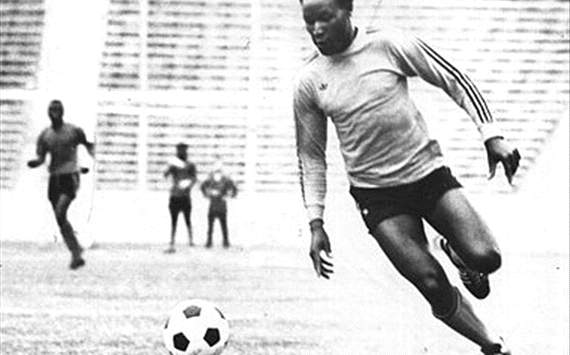 Known as "Ucar" Chitalu died in the infamous plane crash in Gabon in 1993 which killed 18 players and six officials. The manager of the national team which has been regarded as Zambia's greatest ever side, Chitalu had continued to make his presence felt in Zambian football until his tragic death.
In 2012, Zambia won their first Africa Cup of Nations and their victory was dedicated to the men who lost their lives in Gabon. An event which will never be forgotten, spurred the 2012 Africa Cup of Nations champions to overcome their lack of star players and defeat African powerhouses Ghana and Ivory Coast during their 2012 triumph in Equatorial Guinea and Gabon.
Zambian football will reach even greater heights if Chitalu is deemed as the record-holder and will top an exclusive list of some of the most extraordinary players to grace the world's football pitches including Brazil's Pele.
The debate will rage on regarding Chitalu's record even if he is not awarded this accolade, as the Zambian FA, Zambian football fans and the majority of Africa firmly believes the player's goal tally should be recognised. Lionel Messi's celebrations may be cut short if Chitalu's "107" becomes the new landmark.