Hi Leo,
Congratulations. I hear you've surpassed the number of goals scored in a calendar year by beating Gerd Muller's record of 85 goals. Wow!!! That's incredible and I can imagine your joy. But hold it. If you are planning a party, don't start it yet. I hear my fellow Africans in Zambia are not happy.
Yes. They are not happy at all. Apparently, and typical of my fellow Africans, we have someone whose record you are yet to break, but we have failed to make noise about him and no one even knows him until this week.
Messi, don't be disturbed. I am not a killjoy. You have to be used to my 'normal' African attitude. We don't value or make noise about what our very own have achieved until your people in the snow, who cherish and take notice of little accomplishments decide to trumpet the feat of their people. Get used to us, please.
Anyway, let me tell you why my brothers in the copper endowed nation vex. Once upon a time, there lived one Godfrey "UCAR" Chitalu (October 22, 1947 – April 27, 1993). He was a Zambia international. I hear and I am now reading from different websites that this 'famous' player scored "an outrageous 107 goals in all competitions in a single season." Yes! 107 and I have proof read this part of the letter more than 10 times to be sure I'm typing the correct figures. Let me repeat,
ONE HUNDRED AND SEVEN (1-0-7) goalazos!!!
.
Perhaps, the confusion is the difference between a calendar year and a season.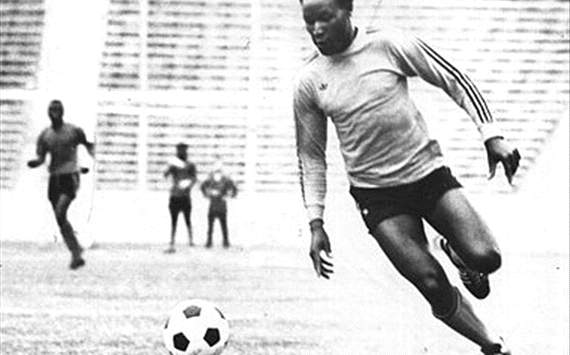 GOAL MACHINE |
Chitalu is reported to have scored 107 goals in a single season
So please, call the grocery store to hold on with the orders for the party this coming weekend. If the Zambian FA is not doing it, I am going to send a rejoinder to the international media to stop touting you as the all time top goalscorer in a calendar year. I'm about to call another record making long-serving president of Caf, Mr. Issa Hayatou, to ask if they really have any records on Chitalu before I'll think of emailing his senior brother in Zurich, Mr. Sepp Blatter. If Chitalu's record is anything to go by, then it means, Leo, you have 22 more goals to score to claim that accolade. I don't think you have to worry much because you are only 25 years and you have enough energy to hit that target before you retire.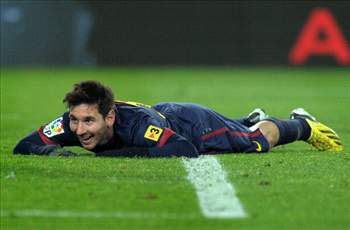 "

Nobody had come close to the German, before or since. But Messi has now broken Muller's mark with up to three games still left to play in 2012. Soon, the only records left for him to break will be his own,

"
- Ben Hayward, Goal.com
Leo, trust me I've been your far away admirer ever since I was introduced to the beautiful game, although I'm not a fan of Barcelona or your Argentina. I don't mean to spoil the fun. But I'm worried about my fellow Africans who are refusing to make a case for Chitalu, whom I learnt was the coach of the Chipolopolo (in case you didn't know that is the nick-name of the Zambian national team meaning the Copper Bullets) when the national team perished in a plane crash off the coast of Gabon on April 27, 1993.
I'm also told he was a five-time Zambian Footballer of the Year and his hobby was to score goals. Strangely, I understand Chitalu was given an 'Achievement Recognition Award' by FIFA following his retirement in 1982. But how come his record of ONE HUNDRED AND SEVEN GOALS is not in the officials football books? I know you may be asking, so that is why I asked.
It's not your fault that some Africans are agitated. Blame the Zambian FA. Curse Caf. Shame unto the African media. African football was poorly documented back in those days and Fifa therefore never recognised Chitalu's achievement if only what I'm reading is true.
Leo, this is your time. Enjoy it. Pray that Chitalu's records are never true, and would never be found. It serves Zambians right. Else, I'll be playing "Don't cry for me Argentina" for you. I love the lyrics. Congratulations once again and don't forget to invite me for the celebrations because I need an autograph.
Yours African fan,
Kent Mensah
Follow me on