It has not been a happy week for followers of English and Italian football on the European stage this week, with eliminations galore and not a single win in six games involving the seven participating teams.
Manchester City were up against it having to win comfortably in Barcelona but they were out-passed and outclassed in a 2-1 defeat at Camp Nou on Wednesday, eliminating them at the last-16 stage of the Champions League.
Arsenal at least scraped together a 1-1 draw at Bayern Munich on Tuesday, who won 2-0 at the Emirates, but it was not enough to make amends for their home defeat and they too bowed out before the quarter-finals of the elite European competition.
Italy only had one representative left in the tournament, AC Milan, but the
Rossoneri
were completely washed away at Atletico Madrid's ground in a 4-1 defeat which followed a 1-0 loss at San Siro. Considering their woeful form this season, a return to Europe in 2014-15 is looking unlikely.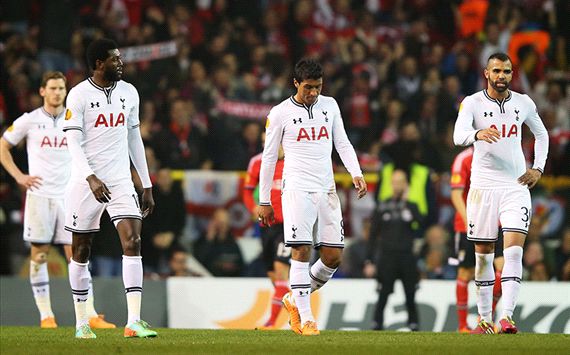 Sorry Spurs | The Premier League club were well-beaten by a polished Benfica
In the Europa League, Tottenham's 3-1 loss at White Hart Lane to Benfica sees their hopes of reaching the last eight hanging by a thread, thus ending the possibility of following in Chelsea's footsteps last season and winning the trophy.
The final will be held in Turin in May, but Juventus' dream of playing on home turf took a dent when Fiorentina drew level late in the opening leg ahead of the return tie in Florence.
Napoli, meanwhile, are coached by last year's victor Rafa Benitez but he could not inspire his side to victory at a beleagured Porto and they will need to overcome a 1-0 deficit if they are to make it to the next round.
Do you think Serie A teams took the bigger bashing this week? Or should Premier League sides be more inclined to hang their heads in collective shame?
Let us know by voting in the poll, having your say in the comments below or getting in touch via
Facebook
or
Twitter
!