TACTICAL ANALYSIS
By Jonathan Wilson
Three games gone and
Tottenham Hotspur
have just two points. There was booing after the game against
Norwich City
on Saturday as another late equaliser cost Spurs a win.
The frustration is understandable: Harry Redknapp left after being denied Champions League qualification only by a quirk of Uefa's rules and Chelsea winning the competition. If Andre Villas-Boas achieves anything less than qualification it will feel like a terrible let-down.
Yet Redknapp wasn't the only departure. Not including loan deals, 12 players left Spurs over the summer, including Luka Modric and Rafael van der Vaart. Six players have arrived, but this is a time of transition, something evident in the tactical hodge-podge in the first half on Saturday, which led to Jermain Defoe playing as a lone central striker with minimal support.
Defoe is a classic example of the sort of centre-forward in danger of being refined out of existence by the evolution of the modern game. He is quick and he is a fine finisher, but he lacks the bulk or hold-up play to operate as a lone centre-forward – at least in the present Spurs set up.
Perhaps if he had a different type of support from the flanks, if he had inverted wingers who could cut in and score goals or central midfielders who could get forward to help, there wouldn't be such an issue. As Defoe himself said: "I have been playing the lone striker for my club and I have enjoyed it. To be honest playing with good players it is not really a problem if people get close."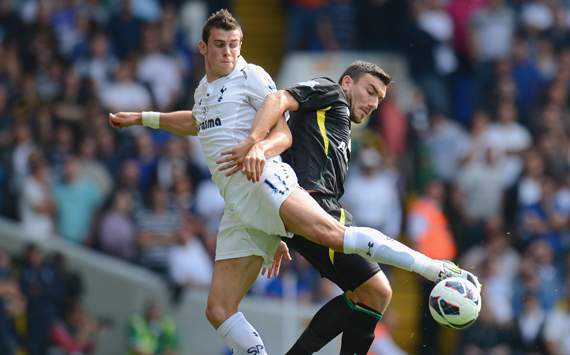 Limited | Bale works for Spurs as a wide-man, not a forward
But Gareth Bale and Aaron Lennon are classic British wide-men: they're quick, perfectly equipped to beat a full-back and get crosses into the box but not naturally adept at the sort of fluid link-up play required to play a front three without a physically robust central presence. Lennon is in his eighth season at Spurs and has only scored 21 league goals.
Bale is rather more prolific, having cemented his reputation with his hat-trick against Inter at the San Siro and scored 17 goals over the past two league seasons.
He can hit shots from range and he is excellent coming in at the back post, but even he is stronger on his left – that is his outside – foot. Despite the experiments with him in more central positions towards the end of last season, he is a wide-man who scores goals rather than being a player like, say, Edinson Cavani or Fabio Borini, essentially forwards who frequently start in wide positions.
In the first half against Norwich, Spurs started with two holding midfielders in Jake Livermore and Sandro, with Gylfi Sigurdsson stroking the ball about smoothly in front of them. It was all sedate and neat enough, but there was nobody driving through the centre of midfield to support Defoe.
BREAKING THROUGH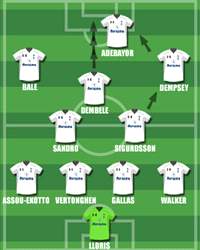 MISSING LINK: Spurs must become more penetrative in midfield

Again and again the ball was swept wide by Sigurdsson to either Bale or Lennon who would then look to cross and realise they had only Defoe to aim at, at which they'd check back and the momentum of attacks would be lost.
The arrival of Mousa Dembele at half-time helped, and it was he who got the Spurs goal, turning in exactly that space on the edge of the box that Spurs hadn't been attacking in the first half. Even with his dynamism, though, it was notable how much better Spurs looked when Emmanuel Adebayor came on.
At last there was a target in the box for Lennon and Bale to aim at, somebody to draw defenders away from Defoe, somebody for Spurs' midfield to play off.
Villas-Boas' essential problem is that this was a squad constructed to play in the Redknapp way, that is, in the classic British manner of getting the ball wide and getting crosses into the box. It's a squad suited to a 4-4-2 or 4-4-1-1 set-up.
Villas-Boas, though, has historically preferred a 4-3-3: it was what he was used to at Chelsea when he worked under Jose Mourinho and it is what he played at Porto – when he did have a great wide forward in the form of Hulk.
The period of transition may be awkward. Dembele will help, as will Clint Dempsey. Villas-Boas already seems to have learned the lessons of Chelsea, where it is generally accepted he tried to impose his style too quickly.
Notably this season, he has not insisted on the high line he clearly favours, recognising the problems that would cause William Gallas given his waning pace. Perhaps the first step is a 4-2-3-1, using Dempsey or Dembele to link the back of the midfield to the front three.
Given his ability to drift in, Dempsey perhaps could be used in one of the wide roles to provide that link between midfield and attack (he preferred the left at Fulham, which would mean Bale either being left out or switching flank, but he has played on the right for the USA).
However he does it, though, from an attacking point of view the priority is to get players breaking through that key central area to support his centre-forward.