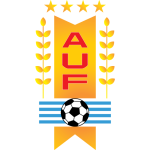 Uruguay
Thursday, December 19, 2013
Friday, December 6, 2013
World Cup Draw - 3:26 PM

Goal's experts offer their reactions to the World Cup draw in Group A where the Azzurri were placed in a pool alongside Uruguay, England and Costa Rica.

World Cup 2014 - 3:25 PM

The draw for the finals in Brazil next year has left a number of parties celebrating their good luck, but for others there was little more than dismay at what is to come.
Thursday, December 5, 2013
Wednesday, December 4, 2013
Tuesday, December 3, 2013
Thursday, November 21, 2013
Wednesday, November 20, 2013
Wednesday, November 13, 2013
International Soccer - 12:26 PM

La Celeste ran out comfortable winners in the first leg, meaning the Asian hosts now need a miracle to reach Brazil next summer.
Tuesday, November 12, 2013
Thursday, October 17, 2013
FIFA - 11:25 AM

The October FIFA rankings confirmed that the European giants will not be in Pot 1 for the 2014 World Cup draw - a decision that can only be described as farcical.
Tuesday, October 15, 2013
South America - 8:45 PM

Goal took in the action in Montevideo, where the hosts overcame a Maxi Rodriguez double to win, but failed to ensure automatic entry to the World Cup and must now face a playoff
Thursday, October 10, 2013
Wednesday, October 9, 2013
Copyright © 2013 Goal.com All rights reserved. The information contained in Goal.com may not be published, broadcast, rewritten, or redistributed without the prior written authority of Goal.com