Top 10 controversial goal celebrations
10. Luis Suarez (vs. Everton, Oct. 2012)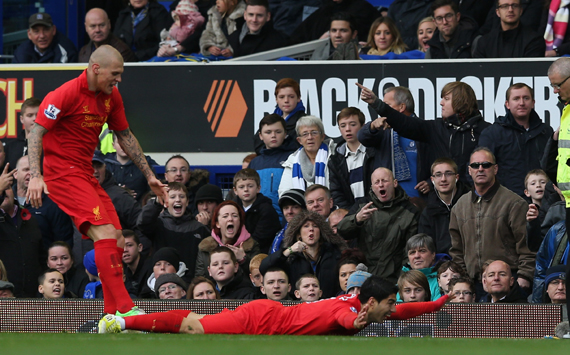 Prior to Sunday's Merseyside derby between Liverpool and Everton, David Moyes made his feelings regarding Luis Suarez well known after the striker went down under a challenge from Jack Rodwell that saw the then-Toffees midfielder receive a red card which was later rescinded by the FA.

"I've got concerns about Suarez, yes," said Moyes. "He's got history and these people are very good at it.

"Last year was a dive and the referee made a really poor decision that ruined the game after 15 minutes."

The Uruguayan looked set to have the last laugh, though, as his early effort deflected off Leighton Baines and he sent himself hurtling to the ground in front of Moyes.

Suarez added another but Liverpool went on to draw 2-2 - though the club might have won had the striker's late finish not been ruled out incorrectly for offside.
Top 10 controversial goal celebrations