Revealed: Liverpool's 2013-14 home jersey
2. Three-piece collar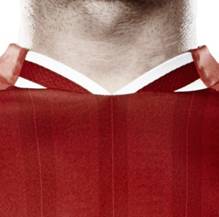 The new three-piece collar introduced with the 2013-14 uniform sees Liverpool revert back to a classic style which was prevalent in the 1980s, most notably when it won its fourth European title, with the white marks defining the overall look.

Also on the shirt's neck, a '96' logo with two Eternal Flames is embroidered to commemorate the Hillsborough disaster in 1989.

Former Liverpool star Alan Kennedy particularly likes the collar and stripe.

"I really like the shirt. The stripe and collar details resemble the shirt we wore during the Cup final in 1984," he said. "The new shirt is very light and I'm told the material will keep players cool, something we desperately needed back when we were playing in the sweltering heat in Rome."
Revealed: Liverpool's 2013-14 home jersey