B. Pérez
Vancouver Whitecaps FC

B. Pérez
Full Name:
Blas Antonio Pérez
Nickname:
Super Ratón
Date of Birth:
Mar 13, 1981 (Age 35)
Place of Birth:
Ciudad de Panamá
Nationality:
Panama
Height:
187 cm.
Position:
Forward
Squad Number:
-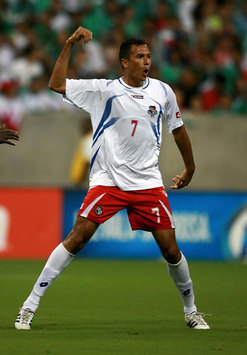 Current Club: Club Leon (Mexico)

Overview:

If there is a true star that is likely to shine for Panama, Blas Perez is it. The striker has proven time and again that he has a nose for goal against top competition and was a standout at the 2007 Gold Cup where he was named to the competition's Best XI.

His scoring record is spectacular for both club and country over the course of his career. He has netted 14 times in 37 matches for Panama and proved how dangerous he could be in the Copa Libertadores as a member of former club Cucuta, scoring eight times, good for second in
the competition in 2007.

The biggest problem for Perez has been finding a consistent home. The striker could be kindly referred to as a journeyman, but no matter where he's landed the goals have followed.

Career Defining Moment: A brace against Boca Juniors in the Copa Libertadores may be the biggest highlight of Perez' career to this point, but the 2007 Gold Cup where he scored three times and added an assist is also worth a mention.

Strengths: Perez' biggest strength is his ability to find goals. Call him a poacher, or a clinical finisher, but however his game is viewed it's clear that he is a constant threat.

Weakness:
The biggest issue with Perez' game is that he relies too much on good service to find goals and doesn't create enough for others. With Panama's 2011 team, that could become a very real issue.
Copyright © 2016 Goal.com All rights reserved. The information contained in Goal.com may not be published, broadcast, rewritten, or redistributed without the prior written authority of Goal.com