Javier Hernández
Real Madrid

Javier Hernández
Full Name:
Javier Hernández Balcázar
Nickname:
Chicharito
Date of Birth:
Jun 1, 1988 (Age 26)
Place of Birth:
Guadalajara, Jalisco
Nationality:
Mexico
Height:
175 cm.
Weight:
70 Kg.
Position:
Striker
Squad Number:
14
National Team Page:
Mexico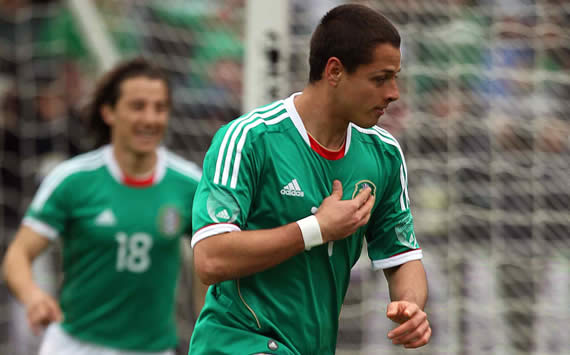 Overview: Javier "Chicharito" Hernández took the world by storm this season by becoming a key component of Manchester United's title run in the Premier League as well as solidifying himself as the perfect companion for Wayne Rooney up front for the Red Devils.

The Guadalajara native scored 13 goals in his debut EPL season, as well as collecting seven strikes in other competitions en route to the most successful first campaign for a Mexican forward since Luis Garcia did it for Atletico Madrid two decades ago.

Aside from the numerous achievements on a club level, Hernández has been vital to his national team for well over a year, starting with the strong showing at the 2010 FIFA World Cup, coming mostly off the bench and scoring against France and Argentina in the competition.

Career defining moment: While the world marveled at his strikes against France and Argentina in the last World Cup, it was the timely goals and taking over of certain key opponents such as Marseille in the Champions League and Chelsea in the Premier League that cemented Chicharito's growing legacy.

Strengths: Incredibly fast in open spaces, equally able to strike with the left or right foot, a supremely intelligent striker who has the innate ability to get behind defenders.

Weakness: Still does not possess the ability to create chances for himself on a consistent basis in tight spaces, may be over-reliant on talented teammates at Manchester United who will not be present at the Gold Cup.

-Eric Gomez

For all the latest Mexican news, visit Goal.com's Mexico's page and join Goal.com USA's Facebook fan page!
Copyright © 2014 Goal.com All rights reserved. The information contained in Goal.com may not be published, broadcast, rewritten, or redistributed without the prior written authority of Goal.com