Gianluigi Buffon Player Profile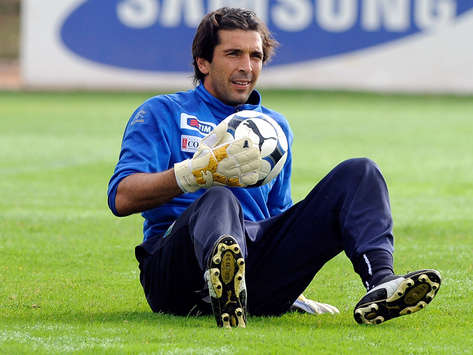 Gianluigi Buffon is without any doubt one the best goalkeepers in the world and the most famous Italian player at international level.

He will play his fourth World Cup in South Africa (but in '98 he was the third-choice) and recently reached the 100 caps mark in a friendly versus the Netherlands. Just the legendary Paolo Maldini, Dino Zoff and Fabio Cannavaro have done better.

Many suggest he is the best goalkeeper in the history of the sport, Juventus paid €55 million in 2001 buy him from Parma (the highest price ever paid for a 'keeper, and the highest purchase of Juventus' history). It was only after 1990 he started to play as goalkeeper and his idol is Cameroon's Thomas N'Kono.

He played his first Serie A match when he was 17, for Parma versus Milan and he was voted man of the match. He is always spectacular and effective, very good when coming off his line and on penalty kicks as well.

He was one of the great protagonists of Italy's victory in 2006. He finished the tournament only conceding two goals (A Zaccardo own-goal and Zidane's penalty). His save on a Zidane header during the final is a part of footballing history. In 2006, he was voted second for the Golden Ball award, only after team-mate Fabio Cannavaro. His last season with Juventus has not been stellar. After a good start, he suffered with both injuries and the team's poor form.

He has a positive relationsip with his club, he didn't leave the club even when they went to Serie B. But this summer, there has been specualtion the Bianconeri may cash in on him. He's loved by all Italian fans and due to his charisma is an important figure in Italy's group. If Buffon can play like he did in Germany 2006, it will be very difficult defeating Italy.

Did you know?

His father and his mother were shot put champions.


Copyright © 2017 Goal.com All rights reserved. The information contained in Goal.com may not be published, broadcast, rewritten, or redistributed without the prior written authority of Goal.com