Wilson Palacios Player Profile
Wilson Palacios
Nickname:
El Mago
Date of Birth:
Jul 29, 1984 (Age 32)
Place of Birth:
La Ceiba
Nationality:
Honduras
Height:
178 cm.
Weight:
71 Kg.
Position:
Midfielder
Squad Number:
8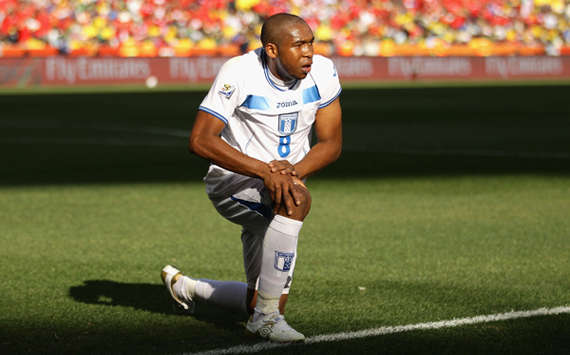 Age: 26

Position: Midfield

Club: Tottenham Hotspur

Overview: The engine for Honduras, Wilson Palacios is one of the top players in all of CONCACAF. The Spurs midfielder is a tough and polished player with the ability to absolutely take over matches when he's motivated.

Palacios saw limited action for Spurs this season but should be well rested and raring to go for the Gold Cup.

Though known for scoring goals while playing in his domestic league, a move to England has seen Palacios change his game and become one of the most well respected holding midfielders in England. In his time with Wigan, Palacios became one of the most sought-after players in the EPL. His stellar play prompted the move to Tottenham, where he played a part in helping the club into the UEFA Champions League during the 2009-2010 season.

For Honduras, Palacios does the job of protecting the back line while also being the man charged with distributing to the numerous skilled playmakers on the roster. His goal totals are predictably low but the midfielder is still a major cog in the Honduran attack because of his ability to spray balls around the pitch with great accuracy.

Career Defining Moment: Palacios played a major role in Tottenham's qualification for the
Champions League during the 2009-2010 season, marking one of the best seasons in the club's illustrious history.

Strengths: Palacios is an accomplished defender, a polished passer, and physical monster in the middle of the pitch, making him the ideal holding midfielder.

Weakness: If there is a weakness in his game these days it's the lack of goals and possibly a lack of sharpness given the limited minutes he played this season with Tottenham, but the weaknesses are much harder to spot in his game than the strengths.
Copyright © 2017 Goal.com All rights reserved. The information contained in Goal.com may not be published, broadcast, rewritten, or redistributed without the prior written authority of Goal.com